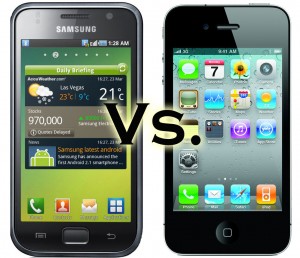 German court bans Samsung from selling its Galaxy Tab 7.7 across the European Union, but allows Samsung to continue selling its Tab 10.1N.
The patent war between Apple and Samsung rages on. The latest victim is Samsung's Galaxy Tab 7.7 Android tablet. The Dusseldorf Higher Regional Court in Germany on Tuesday upheld a preliminary sales ban of the device.
The court proceedings, reported by FOSS Patents, show that Apple is targeting five Samsung tablets and, in separate legal action, 10 Samsung smartphones.
The 7.7-inch tablet was already temporarily banned from being sold in Germany, and is now banned from being sold across the entire European Union. It is important to note that this is not a final ban of the device, but only a preliminary injunction ahead of the full-blown patent trial, which has yet to get under way.
[ What is the line between a smartphone and a tablet? Read Smartphone Shoppers Prefer Larger Displays. ]
"Samsung is disappointed with the court's ruling," the company said in a statement. "We will continue to take all available measures, including legal action, to protect our intellectual property rights and defend against Apple's claims to ensure our products remain available to consumers throughout the European Union." Samsung still has room to appeal this decision.
Apple may have won a sales ban on Samsung's smaller tablet, but Samsung's larger tablet escaped such a fate.
The same German court denied Apple's request to ban sales of the Galaxy Tab 10.1N. The 10.1N is a modified version of the Tab 10.1, which Samsung altered to skirt Apple's patent claims on the device. Despite the alterations, Apple sought to ban the 10.1N, too. The German patent court didn't see it that way and upheld a decision it made earlier this year. Apple appears to be out of appeals when respect to taking action against this particular device.
Understandably, Samsung was a bit more upbeat about this court decision.
"Samsung welcomes the court's ruling which confirms our position that the Galaxy Tab 10.1N does not infringe Apple's intellectual property and does not infringe laws against unfair competition," said Samsung. "Should Apple continue to make legal claims based on such a generic design patent, design innovation and progress in the industry could be restricted."
These European rulings will likely have little effect on the scheduled July 30 patent trial between Apple and Samsung in the U.S. Further, FOSS Patents concludes that the Tab 10.1N's escape from injunction could give Samsung the clues it needs to alter other devices in order to avoid penalties.