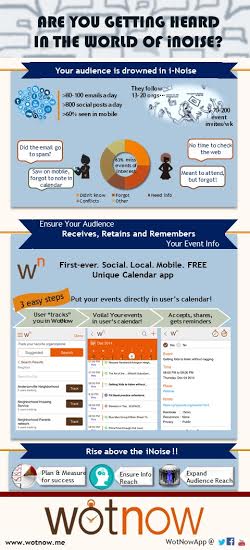 WotNow is a social local calendar app that helps manage life events better.  This is the brainchild of Deepa Salem (Founder/CEO). Anand Sivaraman ( Chief Technology Officer) and Vidhya Iyer, (Communications & Marketing), residents of Naperville. The app aims to  to solve event related communication challenges for both parents and organizations.
The three founders were amazed with the many events and opportunities the city offers. Plus the awareness that some events get missed only because they were put on a post-it note, which magically disappeared from the fridge, prompted them to come up with WOtNow-"what is happening now"
The free App integrates three things
Information on various events
One view of various calendars (phone, Google and Facebook)
Sends a timely reminder of the event.
The app is available for both iPhone users and Android users. In the first week that it was launched WotNow had more than 250 users and is still growing at a fast pace. Apart from local residents many organizations like Naperville Public Library, Hindu Temple of Greater Chicago, Naperville Area Chamber of Commerce, as well as businesses like Aloha Math, Rhythmax, and NIU-Enhancing Engineering Pathways have signed up recently to ensure that their events are read, retained and remembered by their audience.
Few Testimonials:
Naperville Resident / Parent: Nivedita Kamath
The nice2do is not just nice it was a need to and necessary!! Now I am not going to lose the source of my event and also get a reminder. Fills the gap of the outlook reminder, which I have at office!!!
Pooja Venkit, Student, University of Illinois at Urbana Champaign
WotNow allows you to schedule and add events from your personal life and from the areas surrounding you. Using an app like WotNow can help you organize and share your calendar in an efficient way. Gone are the days of sticky notes on a fridge!
See a short video on  WotNow :
The WotNow Story
WotNow is a free app available on iTunes and Google play. The focus is currently Naperville and Chicagoland but hope is to go National early next year.
Don't miss another important event, get all your calendars organized in one place-get WotNow –NOW!