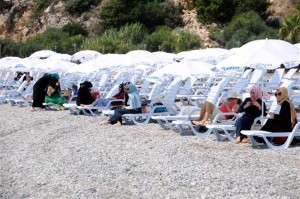 A women's only beach was inaugurated in Turkey today. Its in the Mediterranean province of Antalya, and likely to become one of the best tourist spots in the coming years.
The idea behind women's only beach is that women can be alone, free without the presence of any outside men. Menderes Turel, the mayor of Antalya, said that-
Turkey treats its women above men, and that's the reason why a separate facility of enjoyment, free from men is needed. Others believe that this is just a step towards Turkey behaving more like an Islamic state.
Jumeirah Beach Park in the Emirates allows only women and boys below the age of 4 on four days of the week. The lifeguards and all other staff in this beach are women. Some argue that there is no need of Women's Only Beach; only proper attire should be enforced.
Turkey is divided about Women's Only Beach. It's a fact that such segregation exists only in theocracies. MP Aylin Nazliaka (from the Republican People's Party – CHP) of Turkey called this "a backward and out of date practice" and accused the ruling AKP government of having hypocritical, dishonest policies on women.
While Women's Only Beaches are prevalent in Islamic countries, the concept is not totally foreign to other cultures.  Italy opened its first Women's Only Beach in 2007. But, the lifeguards in this Italian beach are men.