A monthly shower of previews, reviews and my unsolicited views, Vol 16
By Arup Raha
When a symbol of romance like Eiffel Tower gets used in one of the scenes of Queen to symbolize the horror of betrayal, you know you have a filmmaker who is out there to craft something different.  Whether it is the 'Rani weds Vijay' sign during the wedding preparations, or  the Nomad  back-pack with Vijay written on it that Rani carries later in the story,  or the 'status updates' that roll during the closing credits, every detail has been very well thought out in this new  movie from director Vikas Bahl. That, along with the amazing performances by the actors (Kangana Ranaut and Rajkumar Rao), and the brilliant music by Amit Trivedi is what made Queen such a great watch for me, and will hopefully also make it an important movie for Bollywood.
Queen is the story of a simple Punjabi girl Rani from Delhi (Rani = 'Queen') who ends up going on her 'honeymoon' by herself and how that helps her transform as a person when she visits new places, meets new people and experiences new cultures.  As serious as this may sound, Queen hardly tries to preach. It does deliver some messages but through subtlety, simplicity and lot of good humor.  In fact, one of the most powerful messages of the movie gets told over a few loud burps!  The story does not rush into making Rani an independent and courageous superwoman. Through various incidents and experiences, it just makes her confidence gradually bubble up through her innocence.  She can go around without Chintu (little brother) by her side, she can protect her bag from a snatcher, and she can enjoy the freedom of driving on the streets of Amsterdam. She has the courage to take off her sweater as she dances with others, but does not forget to safely tuck it into her bag! Scenes from the present and past are beautifully weaved together throughout this transition. Within its first 15 minutes, I was under the strong grip of Queen's story and it didn't let go of me till the very end.  While it is another feel-good movie that we have seen so many of, Queen is better than the others because it stays away from any melodrama around grief or any romanticization of ideals. The only section that I may complain about is the 'golgappa' episode which appeared a tad unnecessary, particularly its little flirtation with patriotism.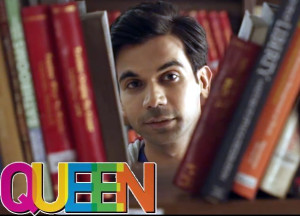 Amit Trivedi's outstanding music, as always, enhances the experience. There are number of songs but they blended in so well that I wouldn't have noticed them if I had not started tapping my feet. It's hard to believe this but Queen will be talked about for years for Kangana Ranaut's charming portrayal of Rani. While Kangana will take almost all of the acting credits, I can't help but mention my favorite actor Rakjumar Rao who though in a small role is so convincing as Vijay, that you almost hate him. Beautiful Lisa Haydon, who plays the other Vijay, impresses and has some great on-screen moments with Rani in Paris.
There could be no movie better than Queen to release on International Women's Day, but that's not why it should be seen. It should be seen simply because  you will love almost every frame, you will have many laughs, and you may re-think yourself on the way home from the theater.
Don't miss the QUIZ below!
Besides acting in the lead role, what other contribution has Kangana Ranaut been credited for in the movie Queen? Choices are:
a) Assistant Choreographer
b) Additional Dialogues
c) Assistant Director
Watch the movie for the answer or just make a wild guess! Post you answers and your thoughts on the movie as comments below:
Read previous edition of Bolly Volley:
https://www.thoughtfulindia.com/2014/02/bolly-volley-4/