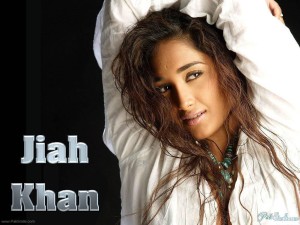 Actress Jiah Khan committed suicide at her Juhu residence on Monday night. She hung herself, it has been reported.
The 25-year-old actress, who worked with Amitabh Bachchan in Ram Gopal Varma's 'Nishabd' was apparently depressed due to personal problems.
Born and raised in London, Jiah, also known as Nafisa had shifted to India to pursue a career in acting. She worked in Aamir Khan's 'Ghajini' and Akshay Kumar's 'Housefull'.
According to the police, Jiah ended her life at about 11 pm but did not leave any suicide note.
Here's taking a look at Jiah's last tweet dated 24 May:
"So sorry I have been off twitter! Took a bit of a break from twitter verse.. sometimes u need a sabbatical to recollect ur thoughts (sic)."
Actor Amitabh Bachachan took to Twitter to express, "WHAT …!!! Jiah Khan ??? what has happened ? is this correct ? unbelievable !!!(sic)."
Shahid Kapoor too tweeted, "Shocked n saddened to hear about jiah khan … Very disturbing … RIP ….may her soul rest in peace (sic)."
The film fraternity is in a state of shock. Actor Arshad Warsi tweeted, "Shocked to hear about Jiah Khan, she was too young to give up on life… RIP (sic)."
"So shocked and saddened by this terrible news!! May your soul find peace #Jiah khan (sic)," Kunal Kapoor wrote on the micro-blogging site.
Bipasha Basu too took to Twitter, "#Rip Jiah Khan!God bless her soul!(sic)"
"Very sad news about Jiah khan 🙁 makes me feel vulnerable :(… It's a strange world(sic)," tweeted Aditi Rao Hydari.
Actor-comedian Vir Das wrote, "It's just incredibly sad when anyone so young takes their own life. R.I.P Jiah Khan.(sic)"
Director Kunal Kohli tweeted, "What she must've gone thru to take such a step we'll never know. May her soul rest in peace. Jiah Khan."
"Shocked and saddened by the news … Gone way too soon… RIP Jiah Khan(sic)," wrote Neha Dhupia on the micro-blogging site.
Director Ram Gopal Varma, whose 'Nishabd' Jiah Khan had entered Bollywood with, took to Twitter to express himself. RGV tweeted, "Shocked and choked to hear about Jiah … So young and so pretty … Just cant believe that someone as young nd so full of life is just dead(sic)"
Manoj Bajpayee wrote, "Its shocking to hear that a young one has commited suicide.may your soul rest in peace jiah khan!too young to go!(sic)"
Sandhya Mridul's tweet read: "Oh god why … Rip Jiah .. May you find love & joy wherever you are ..(sic)"