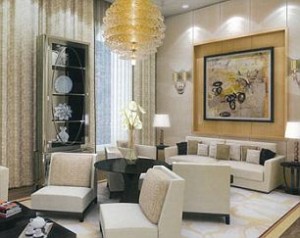 Billionaire Indian industrialist Mukesh Ambani's wife Nita describes their 27-storey Mumbai house Antilla as a "modern home with an Indian heart" and the "only home we have in the world."
The ultra-luxurious 400,000 sq feet Ambani mansion and its contents continue to fascinate people not only in India but also abroad. Vanity Fair, which interviewed Nita last November, will publish a few pictures from inside Antilla in its June edition, giving a sneak peek into what has been described as 'The Taj Mahal meets flash Gordon."
"The closed door policy has only piqued the worldwide fascination that has surrounded the edifice," the magazine said of Antilla.Contrary to speculation that the Ambanis had not moved into their home as it did not conform to the ancient Indian architectural doctrine of 'vastu shastra', Nita told Vanity Fair that they had moved into the house around September last year and some of the media reports about their house were "exaggerated."
"This is the first time I am talking about my home. There have been exaggerated reports in the media about it I must say," she said in the article 'The Talk of Mumbai,' the title referring to Antilla.
"We moved in two months ago. And then it was going around that we have not moved in. It is a modern home with an Indian heart…It is the only home that we have in the world," she said in the interview which was conducted in November.
A New York Times report last October had said the Ambanis had not moved in to their new home, considered one of the most expensive private residences, and family members only slept there "sometimes".
Nita told Vanity Fair that the whole house is based on the theme of sun and lotus. Exquisite materials like rare woods, marble, mother of pearl and crystal were used to craft the shapes of the lotus and the sun in the building.
Ambani said rooms for the family are at the top of the high-rise to let in plenty of sunlight. The family quarters "sit at the pinnacle. We made our home right at the top because we wanted the sunlight. So it is an elevated house on top of a garden," Nita said.
Of the eight pictures that accompany Vanity Fair's article, one shows Nita in a red and pink saree standing in a brightly lit porch near one of the several terrace gardens of her home with a marbled dome structure in the background.
Another picture shows her reading a book in one of the expansive and exquisitely decorated living areas, with tall pillars and glass windows through which Mumbai's high-rises are visible.
The other shows large statues of Hindu gods Ganesha and Shiva and perfectly manicured gardens. The house also has multi-storey garage, ballroom, spa, theatre, guests' suites and terraced gardens.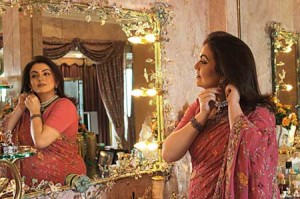 Vanity Fair said like any Indian housewife Nita keeps a track of the weekly kitchen spending and waits for her husband "with candles lit and supper ready" to come home from office which is typically at 11 at night.
"I like to have everything smiley and happy for my husband. Men don't want to see a grumpy face at the end of a hard day," it quotes Nita as saying.
The article also talks about the series of enterprises that Nita has built in the past years that are "proud success stories in contemporary India" like an international preparatory school, a premier league cricket team, the nation's first braille newspaper in Hindi and a 400 acre model township that