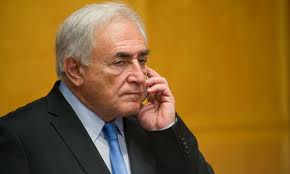 A French prosecutor on Monday opened a preliminary investigation into allegations of rape in a Washington hotel by former IMF chief and one-time French presidential hopeful Dominique Strauss-Kahn.
The move by the prosecutor in Lille in northern France followed a request by investigating judges earlier this month to broaden a suspected prostitution probe to examine the claims of rape in December 2010.
The prosecutor's office said in a statement that they are looking into the allegation that Strauss-Kahn may have been involved in a rape during a sex party in the hotel while he was head of the International Monetary Fund.
The married Strauss-Kahn, 63, says whatever happened was consensual, and he has denied doing anything violent. The prominent economist, once a top contender for France's presidency, has seen his career and reputation crumble since he was accused of sexual assault in a New York hotel a year ago.
Strauss-Kahn is already a target in the Lille prostitution probe, which has mushroomed over the past year into a nationwide scandal. He is facing preliminary charges of alleged aggravated pimping, based on accusations by other people questioned in the investigation.
He denies those charges. He has acknowledged being involved in "libertine" activity, while saying that he was unaware of anyone being paid for sex.
French daily Liberation reported this month that two Belgian prostitutes questioned in the Lille probe described Strauss-Kahn as using violence during sex at the W Hotel in Washington and forcing a sexual act on her despite her protests.
Citing leaked transcripts of witness testimony to Belgian police, also involved in the probe, Liberation cited one of the prostitutes as saying that Strauss-Kahn "used force, he held down my hands, he pulled my hair, he hurt me." The woman is quoted as testifying that another man held her hands down while Strauss-Kahn assaulted her.
Neither of the prostitutes has filed legal complaints, but French rules allow for an investigation even without a formal complaint.
Police are handling the preliminary investigation that could end with all suspicions of rape being dropped or lead to an eventual charge.
A statement signed by Strauss-Kahn's three lawyers insisted the probe would show that their client "never committed violent acts nor had any relation whatsoever without the consent of his partners."
The attorneys claimed this new investigation is part of a bid, including by the media, to demolish Strauss-Kahn.
"In this affair, we witness, incredulous and scandalized, a pas-de-deux between the media and justice, unable to tell which one is leading the other, but both motivated by an unremitting will to lead to the downfall of a man," said the statement by Frederique Baulieu and colleagues.
The Lille probe focuses on a suspected prostitution ring involving prominent city figures and police. Prostitutes questioned in the case said they had sex with Strauss-Kahn in 2010 and 2011 at a luxury hotel in Paris, a restaurant in the French capital and also in Washington, D.C., where he lived while working at the Washington-based IMF, judicial officials say.
Strauss-Kahn is also facing a trial in New York over a lawsuit by a hotel maid who accused him of sexual assault in May 2011. A judge ruled this week that the trial can go forward despite Strauss-Kahn's claim that he had diplomatic immunity.
Strauss-Kahn has countersued, filing a $1 million lawsuit against the New York City hotel maid Nafissatou Diallo, saying she seriously damaged his reputation with what he calls a bogus allegation.
The disgraced French politician said in court papers filed last week that the Guinean-born Diallo made a "malicious and wanton false accusation" when she said he assaulted her one year ago after she arrived to clean his hotel suite.
A French writer had accused Strauss-Kahn of sexually assaulting her during an interview in 2003, but prosecutors ruled last year that too much time had passed to pursue her complaint.
All the accusations against Strauss-Kahn, known as DSK in France, prompted discussion in France about ingrained sexism and sexual harassment in politics and business in this country.