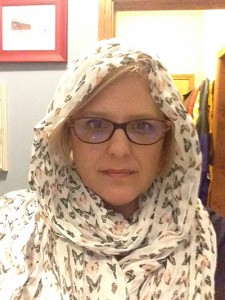 Martha DeVries got tired of hearing rants against Muslims. Martha DeVries is a high school counselor in North Kansas City, Missouri and is a practicing Christian.
She says she got tired of anti-Muslim sentiment. She is a follower of Jesus and attends a Baptist Church. She felt it was not right to target innocent Muslims.
"I've just gotten very tired of hearing so many negative things, like Donald Trump's 'let's not let Muslim immigrants into the United States' and the scare on Syrian refugees," says she, and that is why she took to wearing hijab on every Monday until May of this year.
"I live in a pretty interesting community," she says of North Kansas City. "We have a lot of immigrants living close to the high school where I work" and when the weather's nice the local park "looks like the United Nations."
When people started noticing her headgear she was asked whether she was trying to hide a bad hair day. She answered, " I'm trying to walk in someone else's shoes. And I said I'm tired of people saying persecutory things about Muslims."
She hopes others can find her gesture exemplary and learn to everyone despite their different color, faith and sensibilities.