Films with father-daughter as the central characters are quite rare in Bollywood. "Daddy" (1989) and "Khamoshi The Musical" (1996) are two of the most memorable ones. Films discussing bowel movements in all its glory are even rarer! "Delhi Belly" (2011) was an exception! The talented actor Irfan Khan (now Irrfan)  and the hugely successful Deepika Padukone getting paired in lead roles sounds very promising. Amitabh Bachchan in any role is almost always amazing. So when all of this comes together in a movie called 'Piku' and it is running in several theaters in your town, you can't help but go and watch it with high expectations. That is what I did, and was not disappointed at all.
Much has been said already about 'Piku' being simple. That it is. It is light at heart, and full of laughs.  There is truly nothing in it that would knock you off your feet. It rather makes you stay on your feet and walk alongside Piku, Bhaskor Banerjee, Rana Chowdhry and a host of other interesting characters through a part of their life in which you will find reflections of your own. However, when you scratch the surface, underneath there is a story that is a reminder of complexity of human relationships, the subtle balance between dependence and independence, the need for attachment to our roots and the desire to break away.  Above all, 'Piku' is a confirmation that life is full of joys wrapped in layers of annoyances (like constipation!) that distract us. The movie doesn't quite prescribe getting rid of those layers, but it does remind us to find our joy.
The story of 'Piku' revolves around the Bengali family of 70 year old Bhaskor Banerjee and his unmarried daughter Piku (Note the 'o' in the spelling – different from Dr Bhaskar Banerjee of Anand!). They live in Delhi (C.R Park, where else?). The third very important character is Bhaskor's constipation, which is the topic for more than half of the conversations in this 2 hour film. Bhaskor's world revolves around this big 'problem'. All other things almost do not matter to him, to the extent that he sounds selfish when talking about anything else. His constipation is somewhat a metaphor for the problems that hold us back from enjoying life.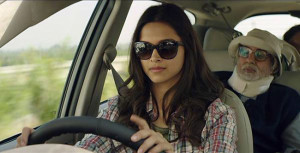 Piku works for an Architecture firm, confident, seemingly independent and often frustrated with dealing with her father's eccentricities, and his obsession with his motions. A strong sense of love and responsibility towards him often comes in way of her own life, in finding a partner, or perhaps a marriage.  It's a strange relationship from the outside. The candor in some of the conversations is almost shocking, and they hardly ever agree on anything. Yet when you put yourself as a part of it, everything appears perfectly normal just like our own families.
The outside view to this father-daughter story is represented by Rana Chowdhry, a taxi company owner who has a lot of bickering going on in his own family too. Circumstances require Rana to himself drive Bhaskor and Piku from Delhi to Kolkata (with a lot of baggage and a commode chair!). This long road trip, punctuated by several stops for Bhaskor to 'try' his motions, becomes a process of discovery and understanding of each other. Rana is baffled with Bhaskor, and enamored of Piku. The outsider, the 'non-bengali', is he able to understand them? Do they reach their destination? Does Bhaskor finally get his motions? The rest of the story takes us through this journey.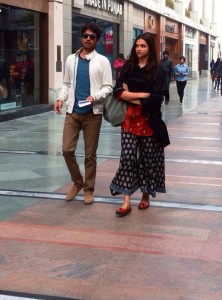 A straightforward narrative like 'Piku' has to depend on strong performances from actors to come to life, and director Shoojit Sircar makes that happen.  Irrfan, as always, is strikingly good. Rana has flavors of the character he played in 'Life in a Metro', and in Piku he takes it to another level with much more screen time. His dialogue delivery is immaculate, but the moments where Rana does not know what to say are the best because Irrfan lets his eyes do all the work. There is a hilarious 'tullu' pump scene which he starts with a complex expression of exasperation and amusement on his face, which not many other actors can pull off. Deepika Padukone, too, is outstanding as Piku. The maturity with which she displays an array of emotions, and her control on the character is very impressive. When it is time for her to retire, it is her performances in 'Piku' and 'Finding Fanny' (and I am sure many more to come) that will stand out in her career, not her work in 'Chennai Express' or 'Happy New Year'! Amitabh Bachchan is wonderful as Bhaskor, though his Bangla accent does sound forced until you get used to it. He makes Bhaskor charming and annoying at the same time. It will be hard to think of anyone else who could fit better in that role. Bengali film and television actor Jishu Sengupta, as Syed, is very likeable as Piku's colleague and friend. All the other actors as well, including Raghuvir Yadav and Moushumi Chatterjee, perform their roles with great finesse.
The wonderful performances are founded on some great writing by Juhi Chaturvedi. Her dialoges provide the core strength to the narrative. Director Shoojit Sircar has accentuated the story and performances with a lot of attention to detail in every shot – from the paintings on the wall, to the food served on the Bengali lunch table.  The dhaba on the highway, the kachori stall on the streets of Kolkata, the tramways, the Hero bicycle, everything looks authentic. Periods of constant chatter (so Bengali!) have been balanced with powerful moments of silence. There is a sequence where all the three lead characters are standing by the highway, upset over a knife found in the car. They are completely silent, yet the entire theater burst into laughter. On another occasion, Piku and Rana sit quietly in the night by the river banks in Benares (Varanasi). There is no romance in that scene, yet it's immensely romantic. Anupam Roy's music is pertinent and pleasant, though not necessarily memorable. It works because it does not impede the flow of the story.
In an age, where slapstick has become the norm for comedies, 'Piku' brings back a genre in which humor comes from things we see in everyday life and from the actions of regular people we meet each day. Yes, it is slow and imperfect at times. So is life.