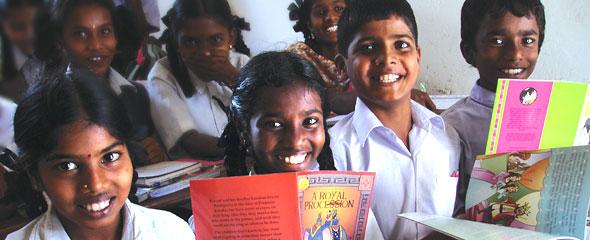 What: Pratham USA Readathon 2013
Where: Start online and then read in your family room, at the park, at a beach, wherever you want!
When:  May 15th to October 31st  — you can join at any time between these dates
Why: Because YOU have the power to change a child's life by reading books, right here and right now.  Just $25 helps educate a child in India through Pratham programs for an entire year!
How: Create your fundraising Webpage, contact sponsors, read books, raise money, help less fortunate kids in India learn to read.
Get Started as a Reader
Get your parents' permission to participate in the Readathon.
Find out what Pratham does, click here.
Create your webpage at SeeYourImpact. For instructions, click here.
Ask your parents for help to contact sponsors (family members, friends, neighbors, teachers etc.) Let them know how many books you plan to read.
Read lots of books! And remind your sponsors to support your efforts.
Thank your sponsors for their support!
See how many less fortunate children in India you were able to help with your reading!
High School Students: Interested in doing worthwhile community service and having a great essay for your college application? Then consider volunteering as a Readathon Coordinator.
Get Started as a Readathon Coordinator
Learn about the Readathon Coordinator role click here.
Review the Getting Started guide for Readathon Coordinators click here.
Need Help?
Please contact Pratham Readathon 2013 National Co-chairs, Vineeta Salvi or Divya Walia at [email protected] or [email protected]  if you have questions about the Readathon, Pratham, or other ways to get involved.
Please email Pratham-SYI Support/Liaison, Laura Templeton at [email protected] if you need help or have questions about setting up your page at SeeYourImpact.