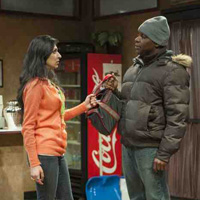 Award winning Chicago-based theatre company, Silk Road Rising, is producing the World Premiere of Jeff Awards Recommended play, "The Lake Effect," by Indian American playwright Rajiv Joseph.  The cast of "The Lake Effect" includes Adam Poss, Minita Gandhi, and Mark Smith.
Rajiv Joseph is a Pulitzer Prize finalist and an award-winning playwright.  Rajiv has been called "daring, magnificent, and virtuosic" by the L.A. Times.  Rajiv has been awarded a United States Artists Grant, the Whiting Award, the Glickman Award, and the National Endowment for the Arts Outstanding New American Play grant.  He is currently a writer on the Showtime television series Nurse Jackie.
"The Lake Effect" is about an Indian American family.  In a depressed Cleveland neighborhood amidst a fierce winter storm, Vijay and Priya, long estranged brother and sister, are reunited by the sudden death of their father. Enter Bernard, their late father's African American confidante and gambling bookie, and a slew of family secrets get unearthed.  From agonizing distrust to pensive absolution, these three complicated individuals find themselves stumbling through perversions of truth and reality.  "The Lake Effect" sets in motion a complicated web of relationships and conflicts that challenge our perceptions of race, gender, and success.  The play is approximately 90 minutes with no intermission.
In a letter to patrons, playwright Rajiv Joseph writes, "I'm of mixed race; my father is from Kerala, India, my mom is from Cleveland, where I was raised.  Growing up, I feel like I've been equally a part of both worlds.  Being mixed-race has always been a part of my identity and although, on the one hand, there might be a sense of always feeling a little bit like an outsider, I feel blessed to have grown up belonging to two different races and cultures.  I feel somehow a part of both worlds.  "The Lake Effect" is, in many respects, a play about separate worlds colliding.   On one level, these worlds are divided by race and culture, but beyond that, it's a play about secrets and families and what binds us together as just regular people.  I'm so excited to have my new play premiere at Silk Road Rising.  I hope you will support me, and South Asians artists, by coming to see The Lake Effect."
Silk Road Rising's artistic director, Jamil Khoury says, "The Lake Effect represents new American theatre at it's craftiest.  Clever, funny, daring, and unafraid to probe it's own discomfort zones.  Political correctness, 'model minorities,' and brown-black solidarity quickly unravel in this stunningly frank tale of dysfunctional families and the limits of individualism."
Chris Jones, chief theatre critic for Chicago Tribune, writes in his review of the play: "Joseph's rich storytelling abilities — under the direction of Timothy Douglas — are enough to pull you into the story. This play is exploring one of the more emotional of the traumas and questions that often surround parents with estranged (or merely absent) kids. Who has their best interests at heart? Joseph, though, has other fish to fry in his Cleveland curry house. Not the least of those issues is the struggle of the well-educated children of immigrants, who might reject the careful, small-business ways of their parents, and surely do not share their accents, but who inevitably remain tied to their family in ways they struggle to fully process. You're never ahead of this prismatic play, which reminds me in places of Tracy Letts' "Superior Donuts," but nonetheless manages to be very distinctive. It's especially admirable in its sense of balance — Joseph is no mere sentimentalist taking down ungrateful yuppies who don't respect their roots (although he lands a few punches), he's also chronicling some of the more paranoid and understandably closed-off tendencies of that first generation of immigrants. These are all deeply vulnerable characters, and the issues in play are not only complex in their exploration of race, class and education, they're also intensely personal."
"The Lake Effect" performs at Silk Road Rising's permanent, 80-seat theatre venue, in Chicago's Loop Theatre District at The Historic Chicago Temple Building at 77 West Washington Street (across from the Picasso at corner of Washington & Clark).
Tickets are only $35 and can be purchased online at www.silkroadrising.org or by calling the box office at 312-857-1234 x201.  "The Lake Effect" plays Thursdays through Fridays until May 26th.  Performance schedule is: Thursdays at 7:30pm, Fridays at 8pm, Saturdays and Sundays at 4pm.
Patrons to "The Lake Effect" can get $8 parking at Self Park at 230 West Washington Street (corner of Washington & Franklin, 3 blocks west of the theatre; the building with Cosi restaurant).  Discount coupon can be picked up at the box office.
Silk Road Rising creates live theatre and online videos that tell stories through primarily Asian American and Middle Eastern American lenses. In representing communities that intersect and overlap, the theatre advances a polycultural worldview.  Founded in 2002 by Malik Gillani and Jamil Khoury as an artistic response to the attacks of September 11, 2001, Silk Road Rising showcases voices that are seldom heard on America's stages.  In doing so, they are expanding and enriching the canon of American theatre.  This April the theatre received the "2013 ChangeMakers Award" from South Asian Americans Leading Together (SAALT) in Washington, D.C.