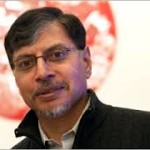 Phaneesh Murthy, CEO of iGATE enterprises fired. He is accused of sexually harassing an employee. He, of course is denying the charges.
He was asked to resign from Infosys in 2002 for sexual harassment charges against his executive secretary Rekha Maximovitch.
Both times, he has cried of being framed.
Our belief is that once a person alleges himself in such activities, he becomes almost habitual of repeating it. He would have harassed many more female employees –somebody should definitely investigate Phaneesh Murthy.
Once called the other "Murthy" of Infosys is at his behavior again.