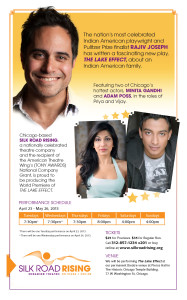 The Lake Effect is a 90 minute drama staged by three incredible actors. Pulitzer finalist Rajeev Joseph wrote a simple but a very strong drama.  The tale of how an Indian origin family is trying to reason out and console each other after the death of their father.  The 80-seater hall was packed with people from different backgrounds.
The star-cast was probably tailor –made , they were able to evoke emotions and keep the audience captive for the whole time.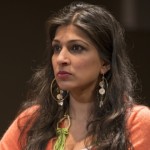 "Priya " played by actor Minita Gandhi is superb. She could easily switch between spewing obscenities and then tearing up with equal credibility. Her performance often left the audience teary-eyed. Actor Adam Poss is playing her brother "Vijay".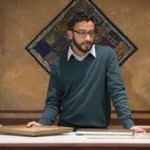 Adam Poss does justice to his role of the stereotypical Asian bookish kid, always earning straight A's in school, turned Wall-Streeter who then loses his job. His controlled performance brought the balance needed to the emotional sister. The brother –sister fights, conversations have been put together  well .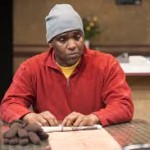 The real delight was "Bernard" played by Mark Smith.  He has perfected the role of a childlike African-American who gets pulled into the family's chaos. It was a difficult role but he made you believe and almost root for him. The end scene where he says, "I can always eat " will stay with me forever.
Director Timothy Douglas has done an amazing job in keeping the audience engaged and guessing, a tough feat in a 3-character cast. The only jarring note is at some places the exchanges between the brother & sister turn into shouting match for not much impact.
It is a must-watch for people of Indian Origin but I am sure anybody who has been an immigrant will be able to see a sliver of their experience reflected in the play.
Details
Silk Road Rising that creates live and online performance that explores critical world issues through Asian American and Middle Eastern American lenses has produced this drama. "The Lake Effect" performs at Silk Road Rising's permanent, 80-seat theatre venue, in Chicago's Loop Theatre District at The Historic Chicago Temple Building at 77 West Washington Street (across from the Picasso at corner of Washington & Clark).
Tickets are only $35 and can be purchased online at www.silkroadrising.org or by calling the box office at 312-857-1234 x201.  "The Lake Effect" plays Thursdays through Fridays until May 26th.  Performance schedule is: Thursdays at 7:30pm, Fridays at 8pm, Saturdays and Sundays at 4pm.
Patrons to "The Lake Effect" can get $8 parking at Self Park at 230 West Washington Street (corner of Washington & Franklin, 3 blocks west of the theatre; the building with Cosi restaurant).  Discount coupon can be picked up at the box office.
Written by Suchitra Sharma