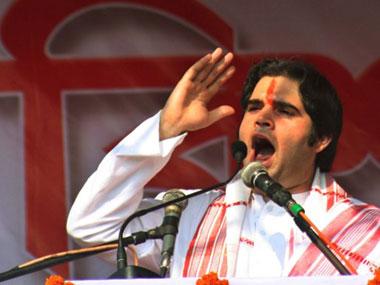 Born on March 13, 1980, Feroze Varun Gandhi is the only son of the late Sanjay Gandhi and Maneka Gandhi. Varun was 100 days old when his father died, and 4 years old when his grandmother, then Prime Minister Indira Gandhi, was assassinated.
He attended the prestigious Rishi Valley School and completed his A levels from the British School, New Delhi, where he was elected secretary of the student council. Varun studied Law and Economics at the London School of Economics. He completed his Masters in Public Policy from the School of Oriental and African Studies, University of London.
A prolific and precocious reader with excellent literary taste, he authored his own volume of poetry at the young age of 20, entitled 'The Otherness of Self', illustrated by top Indian artists Anjolie Ela Menon, Manjit Bawa and Manu Parekh. His book launch was marked by an assembly of leaders cutting across all parties and political affiliations. The book itself was well received earning widespread admiration for the sensitive and well-spoken young poet. Asked what drew him to poetry, Varun Gandhi, explained: "Because it is so precise and illustrates the strength of language."
Apart from poetry, Varun Gandhi has written widely on issues of National Security and External Affairs. Unlike other young people of his generation, he has always had a deep interest in politics believing that one must participate in the system in order to change it.
In August 1999, at the age of 19, Feroze Varun Gandhi was active in his mother's Pilibhit constituency. Maneka made Varun accompany her in meetings, and he started addressing public meetings during this election campaign. He kicked off his career in politics with the words "Main neta to nahin hoon, jo bhashan doon, main sirf aapse baat karne aaya hoon". ("I am no politician that I make speeches, I've only come to speak to you"). He spoke to the people with easy familiarity, and said that he did not believe in charisma. "In the long run, people respect the work you have done," he said. This easy familiarity with the voters and identification with real issues have, since then, remained his trademark.
Choosing to join the BJP was a considered decision, realising that it was bound to raise eyebrows given his family legacy. Varun had the courage to be able to chart his own course based on conviction rather than convenience. He has always believed that simply being a Gandhi could not be considered sufficient political contribution in a country that needed effective leadership to achieve its true potential. The congress had dwindled into a collection of lackeys and self-servers, and was no longer the party of his forbears. The BJP, on the other hand, represented a strong nationalist party that was committed to a proud and prosperous India.
In October 2005, he was interviewed by Stephen Sackur, for BBC's HARDtalk. When asked why he joined the BJP when his Nehru-Gandhi family has traditionally led the Indian National Congress, Varun said, "It was not so much a party as a set of ideologies that my family has stood for, and I abide by those values. In recent times, the BJP had come to represent those values of nationalism, and even secularism.Varun Gandhi was not yet 25 during the 2004 General Elections, and therefore could not contest. However, he campaigned extensively for the party, drawing huge crowds and acclaim for his fluent speaking style. He was appointed a member of the BJP National executive and considered by party seniors and political analysts to be a young political leader wise beyond his years. In January 2008, the BJP decided to field Varun Gandhi from the Pilibhit Lok Sabha seat for general election 2009. His political standing in the party can be ascertained from the fact that his ticket was announced in the BJP's first list for the 2009 Indian General Elections, which had only ten names.
In May 2009, Varun Gandhi was elected into the 15th Lok Sabha of India by a victory margin of nearly 293,501 votes. He procured around 429,000 votes, which was the highest margin for a newcomer, and second highest margin in the House.
In January 2010, a large section of the BJP was projecting Varun Gandhi as the future face of the party in the country, especially in Uttar Pradesh. The RSS saw him as the only hope for strengthening the party's presence in Uttar Pradesh. A public rally addressed by him in Sultanpur, in December 2009, drew a larger crowd than any of the events hosted by the BJP in the recent past.
Unlike the stereotypical bhaiyo and bhaihno speeches, Varun speaks to people and about things that matter to them. He knows the home that has lost a family member, the young men who need jobs, the sick that need treatment, the old that need protection. To each he extends his time, compassion and material aid. Sometimes teased for being such a soft touch for a hard luck story he typically responds, "Nobody can steal from you what you give away happily".