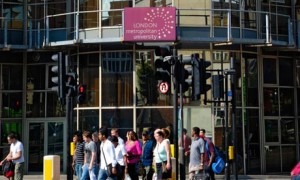 So many Indians apply to study at London Metropolitan that a few years ago the university opened recruitment offices in Delhi and Chennai.
But on Thursday both branches had been shut down. In the Delhi towerblock where the university had an outpost as recently as 31 July, a financial consulting firm had stuck a print-out of its own logo over the Met's and the university's letterbox in the basement was overflowing.
Across the hallway from the old offices on the seventh floor of the Ashoka Estate, Puneet Soin said he was shocked to hear about the UK Border Agency (UKBA) decision. "If they can take away London Met's licence, they can take away any other university's licence," said Soin, who manages the Indian office of Study In UK (SIUK), a commercial firm which helps students win places at UK universities and colleges. His staff had been fielding calls from anxious Indian students worried they could be deported from Britain, or not get beyond passport control at Heathrow.
SIUK has 10 wannabe students who were hoping to enrol at London Met in the next few weeks, paying annual fees of