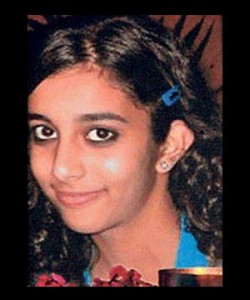 A senior police officer and a crucial witness in Aarushi-Hemraj murder case on Thursday deposed before a special CBI court here that he faced pressure to suppress the rape angle in the postmortem of the teenager.
Former Noida Superintendent of Police K K Gautam, during chief examination told the court that chairman of Noida Eye Hospital Sushil Chaudhry, a friend of slain teenager Aarushi's uncle Dinesh Talwar, had called him and requested him to hide the rape angle in the postmortem.
However, he said that he refused to oblige Dinesh Talwar, the elder brother of Aarushi's father and accused Rajesh Talwar. "But I said I can not help in this matter," Gautam told the court.
Gautam also told the trial court that he was asked to ensure expeditious postmortem.
Gautam is the first crucial witness out of the 13 who have been directed to depose before September 17. He said Chaudhry also called him on May 17, 2008 morning to accompany him to the condolence meeting for Aarushi.
They both went there and attended the condolence meeting, where Chaudhry introduced him to Dinesh, Gautam said.
The witness identified Dinesh in the court on Thursday. "I also asked Dinesh to show me the crime spot. He took me to the rooms of Aarushi and Hemraj and near the staircase which led to the roof where he showed me the blood stains on the staircase and railing," Gautam said in his deposition.
The witness further stated in his chief examination that Dinesh also requested him to get the lock at the staircase opened.
"Then I called Superintendent of Police (city) Mahesh Mishra and informed him that there are some blood stains and the lock need to be opened," he said.
Mishra, according to Gautam, said he would reach the spot but before that he would send the then station officer Dataram Nauneria.
"The SO reached the crime spot and asked for the key, but Dinesh said he did not have it. The SO then broke open the lock and reached the roof where they found blood on the middle of the roof and a body was dragged from there to a corner," he
said. The body was covered by a bedsheet and a cooler penal was also lying on it.
Police asked about the body, but Dinesh feigned ignorance about his identity. Meanwhile, the Superintendent of Police (City) had also reached the spot.
The Talwars' counsel also crossed examined the witness. The cross examination of the witness was completed on Thursday.
Further hearing will continue on Friday. Aarushi, 14, was found murdered at her parents' Noida residence May 16, 2008 while the body of the family's domestic help Hemraj was found the next day on the terrace of the house. Aarushi's parents