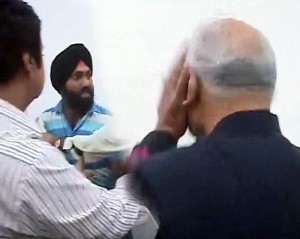 Union Agriculture Minister Sharad Pawar was today slapped at a public function by a young man who claimed he was angry with corruption and price rise.
71-year-old Pawar, who went to a literary function at a public auditorium on Parliament Street, was slapped by Harvinder Singh, a transporter in his thirties who had assaulted former Telecom Minister Sukhram outside Rohini Court on Saturday after he was sentenced in a corruption case.
Pawar lost his balance but remained unperturbed after the assault and moved towards the exit of the auditorium and got into his waiting car.
Private security guards immediately overpowered the youth who kept shouting: "He is corrupt". An official landed a few blows on Singh.
"I came planned to the event to slap the minister," Singh told reporters.
"All of them are corrupt," he shouted when he was removed by security and policemen.
Wielding a small kirpan, the youth said things could have been worse but he restrained himself because today is the martyrdom day of Guru Tegh Bahadur today.
Later, reacting to the incident, Pawar called it stupid and said he did not make much out of it.
[youtube]http://www.youtube.com/watch?v=B9_RYzkbta8[/youtube]
When asked whether he would press charges against the attacker, he said it was for the police to deal with the matter.
Pawar said he saw the youth standing with a group of journalists and could have taken advantage of the fact that he had very little security.
Prime Minister Manmohan Singh spoke to Pawar after the incident and condemned the attack.
Finance Minister Pranab Mukherjee also said the attack on Pawar was "totally condemnable".
Political parties condemned the attack on Pawar saying this was not acceptable in a democracy. Opposition parties, however, felt the government should be serious about tackling corruption and price rise which are of concern to people.
Congress spokesman Rashid Alvi blamed the BJP statement on Tuesday that said the "absence" of any concrete steps to check price rise may become a reason for the people to vent their anger.
"BJP has given a statement. This statement is responsible for today's incident," he told reporters.
BJP spokesman Ravi Shankar Prasad condemned the attack and said the attacker should be punished. He also said the government has not been doing anything on the price situation and the price of gas, petroleum, food and vegetables has been going up.
Samajwadi Party chief Mulayam Singh Yadav also spoke out against the act and said the attacker should be punished. The government also should take the price situation seriously, he said.
'Only one slap?' asks Anna, then denounces attack on Sharad Pawar
Anna Hazare today tied himself in knots with his reaction to the attack on Sharad Pawar, first showing contempt and later condemning the act.