In a big-ticket policy decision, the cabinet on Thursday opened the high-growth retail sector to foreign chains. That means people can soon shop at international department stores such as Walmart, Carrefour and Tesco in India.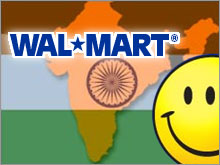 The politically sensitive decision to allow up to 51 per cent FDI in multi-brand and 100 per cent in single-brand retail has come a few months ahead of Assembly elections in five states, including Uttar Pradesh. A stormy cabinet meeting, amid protests from UPA allies, cleared the proposal along with a set of stringent riders, which may pose a hurdle to many foreign players. This is the first time since retail FDI was mooted some seven years ago that the proposal reached the cabinet.
Almost five years ago, to get a feel of things, the government had commissioned economic think tank Icrier to assess the impact of organised retail on neighbourhood mom-and-pop or kirana stores. Even as the report had concluded in May 2008 that the impact of modern retail on the profitability of small stores would wear off with time, the government could not muster the courage to allow FDI in multi-brand retail for fear of hurting small traders, an important vote bank.
THE STORY SO FAR
January 1997