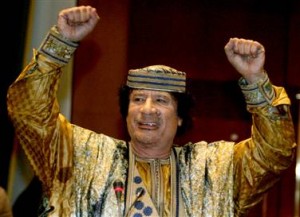 The Russian head of world chess says Libyan leader Muammar Gaddafi told him in a telephone call that he was in Tripoli and did not intend to leave the country despite an onslaught by rebels.
"I am alive and healthy, I am in Tripoli and do not intend to leave Libya. Do not believe the lying reports by Western television companies," Kirsan Ilyumzhinov quoted Gaddafi as saying in the conversation on Tuesday.
"I want to express thanks to everyone in the world who feels for the people of Libya. I am sure that we will be victorious," Gaddafi said, according to Ilyumzhinov, who spoke to the Interfax news agency.
Ilyumzhinov enjoys a strong personal relationship with the Gaddafi family and is one of the few outsiders known to have met the Libyan leader since the conflict began.
He was shown on Libyan television playing chess with Gaddafi in June and met his son Mohammed in Tripoli again in July. But Ilyumzhinov has in the past also provoked ridicule in Russia for claiming to have met aliens.
Ilyumzhinov said he also spoke to Mohammed Gaddafi, who was earlier reported to have escaped after having been arrested by rebels in Tripoli. Mohammed Gaddafi told Ilyumzhinov by phone that he was now next to his father.
Mohammed Gaddafi said that forces loyal to his father were now "beating the rats out of the city", claiming that the fight was against "NATO forces and their mercenaries" rather than Libyan rebels.
Libyan rebels on Tuesday launched a massive offensive on Gaddafi's sprawling Bab al-Azizya compound in Tripoli in the most intense fighting heard in the city since rebels fighters surged into the capital three days ago.
Speaking to Interfax, Ilyumzhinov, head of the World Chess Federation (FIDE) sought to play down his role in the affair.
"I am not a politician. I am just passing on the information that I have."
Ilyumzhinov last year stepped down from his post as president of the Russian Buddhist region of Kalmykia after a 17-year stay in office to serve full time as World Chess Federation chief, a post he has held since 1995.
Source://au.news.yahoo.com/