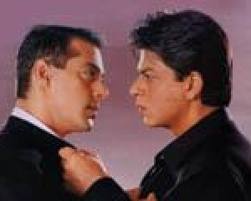 Shah Rukh Khan apologised to Salman on a talk-show. Salman Khan insists that was no apology.
Shah Rukh Khan stunned the world when he apologised to Salman Khan on a talk show on television hosted by Karan Johar. With the onset of a New Year, one thought that these foes would surely turn into friends once again, but Salman Khan isn't in the mood of forgiving and forgetting.
In fact, he says that Shah Rukh's apology was hardly an apology at all. Sallu disclosed to a close friend of his that if Shah Rukh really meant and wished to apologise, he would have either picked up the phone and called him up, or come over to his house. Going on national TV wasn't the right way. Well, it looks like it's going to be a while before these two Khans begin to see eye-to-eye.
In the meantime, Aamir Khan and Salman Khan have become good friends and were seen bonding recently at Imran Khan and Avantika Malik's sangeet bash held at Karjat.
Shah Rukh Khan apologised to Salman on a talk-show. Salman Khan insists that was no apology.
Shah Rukh Khan stunned the world when he apologised to Salman Khan on a talk show on television hosted by Karan Johar. With the onset of a New Year, one thought that these foes would surely turn into friends once again, but Salman Khan isn't in the mood of forgiving and forgetting.
In fact, he says that Shah Rukh's apology was hardly an apology at all. Sallu disclosed to a close friend of his that if Shah Rukh really meant and wished to apologise, he would have either picked up the phone and called him up, or come over to his house. Going on national TV wasn't the right way. Well, it looks like it's going to be a while before these two Khans begin to see eye-to-eye.
In the meantime, Aamir Khan and Salman Khan have become good friends and were seen bonding recently at Imran Khan and Avantika Malik's sangeet bash held at Karjat.
Original Source