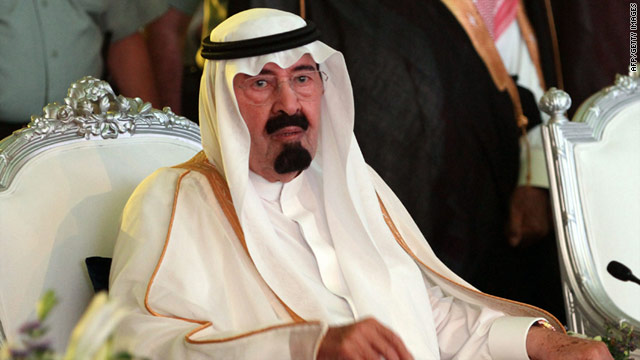 King Abdullah of Saudi Arabia repeatedly exhorted the United States to "cut off the head of the snake" by launching military strikes to destroy Iran's nuclear program, according to leaked U.S. diplomatic cables.
A copy of the cable dated April 20, 2008, was published in the New York Times website on Sunday after being released by the whistleblowing website WikiLeaks. The classified communication between the U.S. Embassy in Riyadh and Washington showed the Saudis feared Shi'ite Iran's rising influence in the region, particularly in neighboring Iraq.
The United States has repeatedly said that the military option is on the table, but at the same time U.S. military chiefs have made clear they view it as a last resort, fearing it could ignite wider conflict in the Middle East.
The April 2008 cable detailed a meeting between General David Petraeus, the top U.S. military commander in the Middle East, and then U.S. ambassador to Iraq, Ryan Crocker, and King Abdullah and other Saudi princes.
At the meeting, the Saudi ambassador to the United States, Adel al-Jubeir "recalled the King's frequent exhortations to the U.S. to attack Iran and so put an end to its nuclear weapons program," the cable said.
"He told you to cut off the head of the snake," Jubeir was reported to have said.
The Saudi foreign minister, Prince Saud al-Faisal, however, pushed for tougher sanctions instead, including a travel ban and further restrictions on bank lending, although he did not rule out the need for military action.
The WikiLeaks documents also show U.S. Defense Secretary Robert Gates believes any military strike on Iran would only delay its pursuit of a nuclear weapon by one to three years, the Times reported.
"IRAN NUCLEAR PROGRAM MUST BE STOPPED"
Saudi Arabia, one of the world's top oil producers, is concerned about Iran's growing military strength. The United States announced last month that it plans to sell the kingdom $60 billion worth of military aircraft to help it bolster its defenses.
Britain's Guardian newspaper, one of a number of publications to have had access to the leaked diplomatic cables, said the communications also showed that other Arab allies have secretly agitated for action against Tehran over its disputed nuclear program.
Another cable, sent from the U.S. Embassy in Manama, Bahrain, on November 4, 2009, detailed a meeting between Petraeus and King Hamad bin Isa al-Khalifa, whose kingdom is the headquarters of the U.S. Navy's Fifth fleet. Like Saudi Arabia it is a Sunni Muslim-ruled kingdom.
King Hamad argued "forcefully for taking action to terminate (Iran's) nuclear program, by whatever means necessary," the cable said.
"That program must be stopped," he was quoted as saying. "The danger of letting it go on is greater than the danger of stopping it."
According to an April 2006 cable from the U.S. embassy in Abu Dhabi, the United Arab Emirates believed "the threat from al Qaeda would be minor if Iran has nukes," but that it was reluctant to take any action that might provoke its neighbor. .Read More at Reuters