The origins or Saree is fuzzy, but we do know it is one of the oldest garment of the world. Right from Indus Valley Civilization to the robotic era, women love sarees. Indian women love this mesmerizing long piece of clothing. In my opinion, it is the sexiest-versatile piece of clothing. It's up to the wearer to make it modern, traditional, or whimsical. Plus the biggest benefit-you can keep going up and down in size, and the saree will still fit, beautiful in all sizes and frames.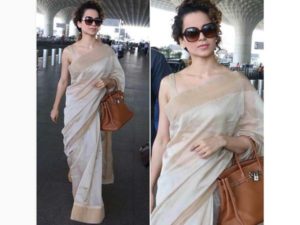 All women will have their favorite loom, preferred fabric, and embroidery for the saree. In my opinion, simpler look carries elegance. A light fabric saree with sleeveless blouse, sandals and stud earrings, is my preferred choice.
We fuss a lot on the designs of blouses and try to find the best (read: most innovative) blouse design. My vote is again on a simple sleeveless blouse, no-fuss yet stylish.
Some bolly heroines to inspire you for your next saree