Sunidhi Chauhan, India's Sensational Vocalist to Headline the Event
NAPERVILLE, IL, July 13, 2016, Naperville Indian Community Outreach in association with City of Naperville and Indian Consulate General will be hosting the second grand India Day Parade and Celebration on August 14, 2016 (Sunday) to mark the 70th anniversary of India's independence.
Several thousand people from Chicago and the suburbs are expected to attend the event which is being held in downtown Naperville. With Bollywood celebrity Sunidhi Chauhan as the Grand Marshall, the India Day Parade will serve as a showcase of India's rich and diverse culture with estimated 100 parade entries. Colorfully decorated floats organized by Indian cultural associations, local businesses and political organizations along with multiple colorful dance performers will be the highlight. Spectators will be treated to a rich variety of Indian cuisine, ethnic arts, apparel, and jewelry. This event has the distinction of being the 2nd India Day Parade backed by any city in America.
The Parade will be followed by a concert headlined by top Bollywood singer from India, Sunidhi Chauhan and her troupe. This concert is historical as this will be the first India Day in America with a concert of this kind with the free entry for everyone.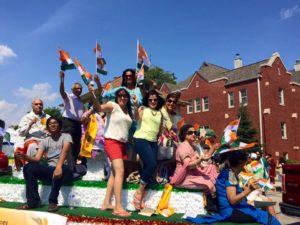 The ICO is a non-partisan and a not-for-profit organization whose mission is to preserve and promote the cultural heritage and contributions of Indian Americans while promoting their integration in the growth of Naperville. Its chairman, Krishna Bansal, has been appointed by, and reports to the Mayor of Naperville. Bansal said that his team and him are excited to have the ICO organize this pioneering event. "Indian Americans are now a significant part of Naperville's population, both in numbers and impact," he said.
The community which saw a dramatic growth since the nineties, now comprises of over 10 percent of the suburb's total population. Moreover, with the recent influx of information technology workers and other professionals from India, over 70 percent are first generation immigrants.
Viral Shah, board member and treasurer of ICO described that several South Asian community leaders, restaurants, businesses and cultural organizations have come forward to support the event. While Naperville Mayor Steve Chirico and Consul General of India in Chicago, Dr. Ausaf Sayeed, will be chief guests, Sunidhi Chauhan, Indian's sensational singer will be the Parade Marshal. Among the other dignitaries invited and are attending include the Governor, Senator, Congressman State and Local elected representatives and prominent leaders of the Naperville community.
Chirag Jani, board member of ICO and lead of event logistics explained that parade will begin at Naperville Central High School in Naperville at 5:00 PM and end at Knoch Park, 724 S West St, Naperville, IL 60540 where the celebration/concert will kick off. While providing outline of the event, he emphasized this to be an excellent opportunity for local businesses and groups to partner, participate and gain visibility. The parade may be seen as a symbol of the rapid growth of the Indian American community in the Chicago suburbs.
From 1990 to 2010, Indian-Americans became the largest Asian ethnic group in Illinois, according to data from the last census. Demographers and Indian community leaders say they expect that the figures will increase even more as highly educated Indians continue to fill jobs in the computer industry and change the face of the suburbs. Ashfaq Syed, Member of the Organizing Committee said Naperville, ranked as one of the most desirable American cities for a family, is home to more than 15,000 Indian-Americans, making it the suburb with the largest & growing population of the community in the area outside Chicago. Indian-Americans have been contributing greatly in the fields of business, medicine, information technology and as the leaders of large corporations. Additional information about the parade and celebration including applications to participate in the parade and celebrations as well as sponsorships is available on our web site www.napervilleindian.com. We encourage everyone to visit and review our website. Krishna Bansal Chairman, Naperville Indian Community Outreach www.napervilleindian.com +1 630-300-0345
NAPERVILLE INDIAN COMMUNITY OUTREACH 750 Shoreline Dr. STE 100, Aurora, IL 60504 (630) 300-0345 www.napervilleindian.com | www.facebook.com/IndianCommunityOutreach