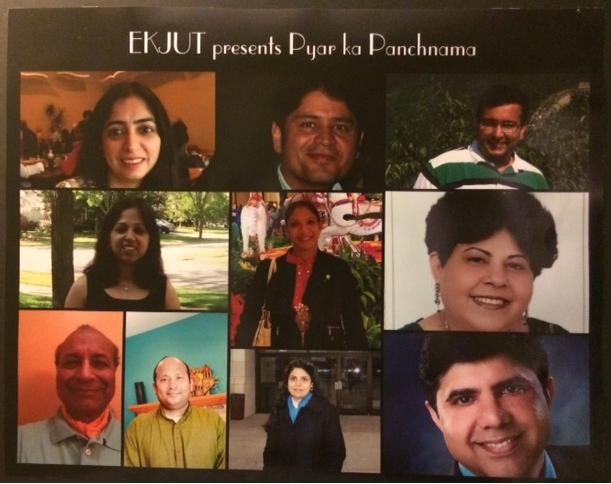 Ekjut recently staged their maiden Hindi romantic comedy play called "Pyar ka panchnama" which entertained a full house with lots of laughter.
EKJUT  provides a platform for adult enthusiasts and local community for drama and theater in the Chicago area.
Ekjut is getting ready to present another event in early May – and here YOU can be on stage. Yes, here are the the categories where you can be on stage to showcase your talent (we know you did a lot of these in school and college). There are so many of those poetry written in the old diaries, time to dust it off…the शायरी/lines you wrote as the emotions rose… the act of enactment in different roles…
1. Stand up comedy/Hasya kavita
2. Kavita/shayari
3. One act play (1-5 actors)/Mono act
Each of the items can be maximum of  8 minutes.
If you want to act but no script – no worries.There are several scripts as one act play and you can be part of them.
Please email
[email protected]
if you want to be a participant and act or recite your lines.
If you have any questions you can also call at
847-668-3565
. Please forward to friends who are also interested to be a part (both as performer and audience).