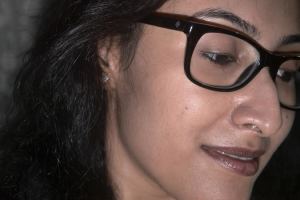 Koral Dasgupta's book POWER OF A COMMON MAN – Connecting to Consumers the SRK Way is a unique book analyzing the consumer behavior and marketing techniques through the journey of the immensely successful King Khan. The book is a must read. We caught up with Ms. Dasgupta to understand his thinking behind writing such a book.
She said while it is a well established fact that SRK is not only a superstar because of the way he has managed his career, what is less known is his marketing genius in the way he has managed SRK as a brand. Her book shares some of the insights that can be leveraged in a practical way.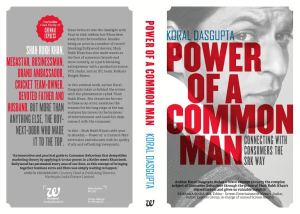 1.Tell us something about yourself and your family 
I belong to Kolkata; my mom and all my relatives are still there. I settled in Mumbai since 2009 when I was married to author Tuhin A. Sinha. Today we are parenting our two and half year old son, Neev.
2.What aspects of Shah Rukh Khan impressed you to write this book?
Shah Rukh Khan's career is an amalgamation of multiple skills and you can write a book on each of those skills. He is an expert in all that he chose to stand for. I being a Marketing professional wanted to work upon his marketing talents.
3.Has Shah Rukh Khan received a copy of your book? If yes, what was his reaction?
Shah Rukh Khan has received a copy of the book. Post that I haven't heard from him.
4.How did you do your research for the book?
Ample material about SRK is available across popular media both domestic and international; moreover I must have spoken to more than 2000 people who are SRK fans and also those who are not SRK fans, to get a fair view of what reactions he ignites among his audience. It was a tough job to elaborate SRK through Consumer Behavior theories but end of the day all hard work was worth it.
5.Did you always want to be a writer?
No, I never thought I'd be a writer. Writing needs patience and that word doesn't go too well with me. I wrote the book all through my pregnancy months when movement was restricted and I was sufficiently homebound. I wanted something constructive that can keep me occupied and not get me depressed. I always thought someone some day would definitely write a book explaining the tough marketer called SRK. When no one did, I started working on it 🙂
6.How hard was it to publish your book?
That was a gala surprise for a first time writer like me. I didn't have to face many rejections. Within three months of completing the manuscript, it was taken by Westland, which is one of the top publishers in India. And I had a dream run working with them. 
7.What are you reading right now?
The Celestine Prophecy by James Redfield
8.Which authors have impressed you?
There are many authors who have impressed me and this is a small space to name all of them. However, Rabindranath Tagore, Gurcharan Das, Chitra Banerjee Divakurani, Tuhin A. Sinha are a few names.
9.Give us three fun facts about you?
When someone says "No" to me I believe that person is a loser! Trust me it is extremely therapeutic.
 On any given day I am more notorious than my son.
 I always have a reverse logic that can out-logic your best logic; this is not a talent that my husband quite appreciates.
10.Anything you want to add for our readers?
Please don't hesitate to write back to me your most ruthless feedback. The book is my attempt to generalize academics such that it becomes as good as a regular drawing room discussion and you don't feel pressured with academic concepts that seem imposed in a classroom ambiance. More I hear from you, better will I be at my job 🙂