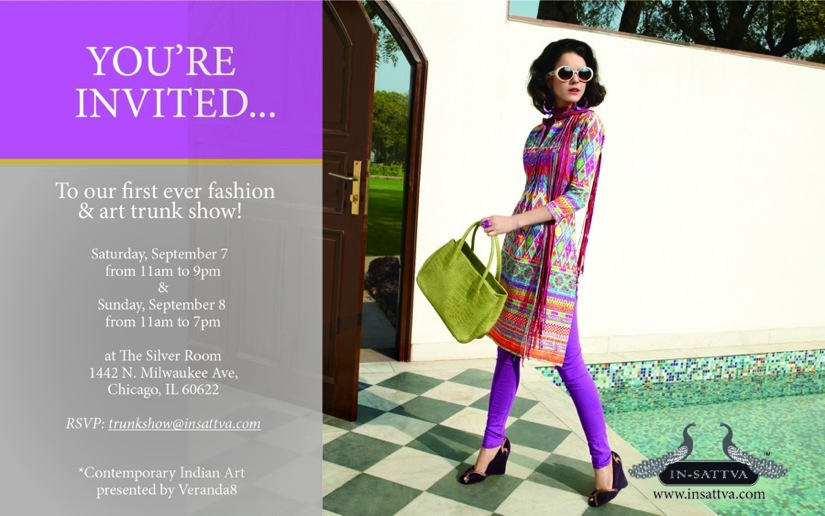 In-Sattva™, in partnership with Veranda8, will be sharing Indo-fusion Fashions and Contemporary Indian Art at a two-day event at The Silver Room, in Chicago, on September 7th & 8th, 2013.  The event will run from 11 am – 9 pm on the 7th and 11 am – 7pm on the 8th.
In-Sattva™, Sanskrit for "living in goodness," is a fast growing e-commerce apparel and accessory company that brings colorful Eastern fashion to customers in the West.  The In-Sattva™ style is trend-forward and traditional with a clean sensibility, focusing on rich color combinations, quality materials and superior customer service at an affordable price.  In-Sattva™ partners with some of the largest retail brands in India, including Pantaloons and Future Group, to bring an extensive collection to the U.S. and the U.K.  To view the entire offering, please visit www.insattva.com.
For over two years, In-Sattva™ has been successfully working with Amazon.com, selling women's and men's clothing and accessory items and building a U.S. presence.  Products are stocked and shipped in the U.S. to allow for expedited shipping through Amazon and Amazon Prime.  This year, In-Sattva™ is hosting its first ever trunk show in Chicago for an in-person shopping experience at The Silver Room (www.thesilverroom.com).  The event will allow customers to gain familiarity with the brand, quality of the products, and sizes.  The trunk show collection will include over 100 styles of kurtas/tunics, legwear, and three-piece ethnic suits from Indian designer fashion brands Akkriti, Rangmanch, and Trishaa, and handbags by Ivory Tag.
In-Sattva™ is happy to share the stage with Veranda8, a nomadic gallery focused on promoting Contemporary Indian Artists and their work to U.S. based collectors through a combination of art advisory services, educational events, and art dealership.  Like In-Sattva™, Veranda8 is proud to be headquartered in Chicago.  To learn more, please visit www.veranda8.com.
Please direct any inquires about In-Sattva™, Veranda8, or the Trunk Show to Monica Badlani – [email protected]/773-251-6540