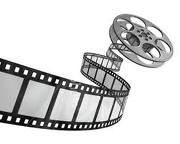 * * *
Real to Reel to Real Life (Part 2 of 2)
Is Raat Ki Subah Nahin
If you haven't read Part 1 yet,
Click here: The Story Thus Far
Now that the name of the movie is out of the bag, let me start Part 2 with the results of the guessing game from Part 1. Many of you made interesting guesses about the movie's name and also about why I froze a second time (was it because the thug at the ticket-counter was starring in the movie!!). But only two people guessed it right. One is my sister, Rukmini, in Hyderabad – and believe me, till Part 1 was published, I had kept that horror story under wraps with my family to avoid alarming them. But the other answer, which was uniquely clever, came from my good friend, Gopal, in Naperville. I will not paraphrase him; here's his email in its entirety: "Dear Sreepathy:  I could not sleep till the morning (no pun intended) and the night seemed endless and it seemed as though morning never would come – until a friend helped me out! Your real life story and the movie story…Awesome parallel! Thanks for the mystery." Gopal couldn't have done any better than by unlocking the mystery with a mystery response!
Now, back to the story…
…I froze, and sweat trickled again. Because, what are the odds, I mean what really are the odds that you pick a movie completely at random, go to the theater, and experience an incident that numbs your whole being, only to discover that the central character in that random movie goes through an incident that is eerily similar to what happened to you just a few minutes back – of being the wrong man at the wrong place at the wrong time, and in front of the wrong man? These kinds of incidents, every once in a while, make the cliché "Life is stranger than fiction" come alive. But hold on, Is Raat Ki Subah Nahin (1996) was based on a true story! And so, it came full circle that a story went from real life on to the celluloid and then came back to bite me in real life.
The entire narrative of IRKSN – set in the seamy suburbs of Bombay – spans the period of a single night and starts with two parallel storylines – one of mafia rivalry and the other of marital rivalry.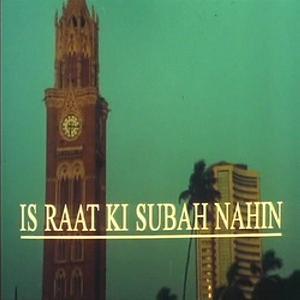 Minions of Don Ramanbhai's gang use brutal methods to show their loyalty and placate their boss's anger and ego by going after a disloyal member, Vilas. Every exchange between Ramanbhai's mafiosi and Vilas becomes a display of naked power and perfidy…Unconnected with all this, there is the middle-class ad executive, Aditya, whose wife is livid because of his affair with a singer. Aditya comes home from work that evening, his wife discovers his infidelity, they both have a fight, and she turns him out of their house. He goes to a bar for a drink to calm himself down. From the bar, he makes repeated efforts, using the public phone, to placate his wife. Meanwhile, in one of those calamitous coincidences, Ramanbhai and his flunkies are right there in that very bar on that very evening.
Inevitably, the dreaded moment pregnant with the nasty variety of the dramatic arrives in the movie. It becomes the point of intersection between the two unrelated storylines and turns Aditya's life (and that of several others) into a train of tragic events over the course of the rest of the night. What happens is that even as Aditya is frantically trying to talk to his wife on the phone, one of Ramanbhai's men is itching to use the phone too. Very quickly, a completely unimaginable scuffle ensues which ends in Aditya pushing Ramanbhai to the ground, without knowing who he is. The don falls not just on the ground, but in front of a couple of rival gang members…From where his ego has fallen, Ramanbhai can do the only thing that will redeem it…Avenge. And in a trice, when Aditya realizes what he has done, he does the only thing he can do…Run.
From here on, IRKSN's plot gallops, riding on a superbly written series of insightful vignettes and action-driven subplots, till it ends at the stroke of dawn with a one-on-one showdown between the middle-class man and the mafia kingpin. The movie ends not-so shockingly, unlike what happened to the real-life Sudhanshu Mishra , whose life it was based on. The movie's director, Sudhir Mishra, lost his brother, Sudhanshu, to a similar tragic incident involving the mafia. As for me, I am thankful for one of life's lucky turns that ensured that there was no catalyst to spiral things out of control during my contretemps at the ticket-counter.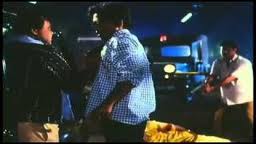 There are many things that IRKSN does well, but perhaps the best is the way it scripts its plot. In a first-of-its-kind thriller in Hindi cinema, the movie not only keeps you on the edge of the seat with its action, but engages you with its lively dialogue. I am reminded of the more recent Delhi Belly, a movie whose writing sizzles with some brilliant plot sequences, but whose humor, at best, raises an involuntary chuckle and at worst, leaves a bad odor with its school-boyish bathroom humor. However, IRKSN cleverly weaves in some polished humor and wit even into a story populated with underworld characters. After all, to his credit, Sudhir Mishra was one of the co-writers of that all-time great Hindi movie satire Jaane Bhi Do Yaaron (1983).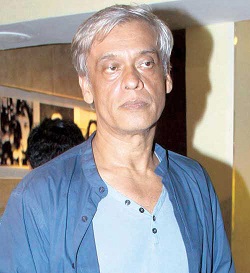 Back in 1996, though Mishra was largely an unknown entity, he had already written other compelling movie scripts like Mohan Joshi Hazir Ho! (1984) and Dharavi (1992). In later years, he went on to make such thoughtful movies as Hazaaron Khwaishein Aisi (2003), which, in my opinion, is the best Hindi movie made with an historic political milieu as its backdrop, and Khoya Khoya Chand (2007), a hard-to-make silver-screen story that presents a passionate pastiche of the Hindi film industry of 1950s and 60s.
The other thing that catches your attention about IRKSN is its music, and the picturization of its songs. The background song Jeevan kya hai, koyi na jaane… flows through the entire movie, rooting the surprise that lies hidden in each of life's myriad moments.  As for the other songs, the screenplay segues them into itself so seamlessly that unlike with most songs in Hindi movies, you don't end up scratching your head wondering, "Where the heck did that come from!"
As I said earlier, the movie's credits feature names that were completely unknown then, starting from its director. But it unearthed a lot of good talent. Nirmal Pandey who plays Aditya; Smriti Mishra who plays his mistress; Saurabh Shukla who plays Vilas; and above all, Ashish Vidyarthi who plays the mafia don. All of them are superb actors. And for the music score, plaudits should go to MM Kreem, the South Indian music director who also goes by his original name of MM Keeravani.
Lastly, I remember I was so struck by the movie that I took my wife the very next day to Sapna to see it again. Though, this time I should confess that I asked her  to buy the tickets from the counter…….
PS: Is Raat Ki Subah Nahin is available on Netflix.