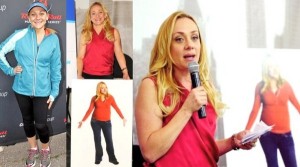 Well this is one way to get thrown out of the Hollywood mothers' group.
Cougar Town actress Nicole Sullivan has launched an attack on celebrity mothers who claim.
The mother of two singled out Jessica Alba, saying the Blue Crush star and other actresses lie about how they got their bodies back after their pregnancies.
The 42-year-old comedian called out claims by Hollywood mothers that they get their amazing bodies back by simply breastfeeding or chasing after their children.
The actress told Us Weekly at The Real Women of Jenny Craig event on Wednesday: 'I felt broken. I felt like an outsider in my own community.'
'I would flip through celeb magazines