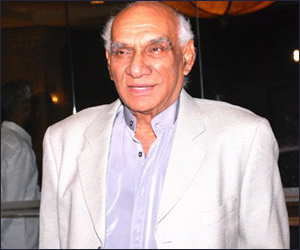 Veteran filmmaker Yash Chopra, who has given several golden hits to Indian cinema including 'Waqt', 'Deewar', 'Silsila', 'Dil Toh Pagal Hai' and 'Veer Zaara', will end his directorial innings with the upcoming Shahrukh Khan-Katrina Kaif starrer 'Jab Tak Hai Jaan'.
Chopra, who wielded the megaphone after a gap of eight years for this romantic saga, now wants to spend time with his wife Pamela and help budding directors.
"This ('Jab Tak Hai Jaan') will be my last film as a director. There are some calculations that you do with your heart and now I have decided that I won't direct a film after this. I think the time has come for me to take a backseat," Chopra said in a conversation with Shah Rukh about his journey in filmdom, at the Yash Raj Studios on his 80th birthday.
"I will do other things like helping the younger generation in filmmaking, sharing my experience. I will do all those things that I couldn't do earlier. My wife has been complaining I don't give her time, I want to make my wife happy… enjoy life," the Bollywood legend, who has weaved magical love stories on the silver screen, said.
SRK, who has had a long standing association with Chopra and his banner, called it a happy and sad moment.
"It is a happy-sad moment. I am touched and happy to have worked with him in so many films. You (Chopra) have made a decision and we can't question it… we can't change his mind," he said.
"It's a moment of history. The first time I saw a film in a theatre in Vivek Cinema was 'Joshila', when I was nine. I didn't know it was a Yash Chopra film then. Since then I have been associated with him in some or the other way," Khan said.
'Jab Tak Hai Jaan' produced by Yash Raj Films releases this Diwali on November 13.
Chopra started his journey in the film industry as an assistant to I S Johar and then with his director-producer brother B R Chopra. With his brother's production house he made his directorial debut In 1959 with 'Dhool Ka Phool', 'Dharamputra', 'Waqt', 'Ittefaq'.
But his sailing was not smooth as his family was conservative and wanted him to become an engineer.
"My elder brother (B R Chopra) was already into films… so my family wanted me to become an engineer. I thought how will I become? I told my brother I want to become a director. A man has to learn to become a director," Chopra said.
"I came to Mumbai with the dream of becoming a director. My mother was illiterate but she told me she does not understand anything about films her blessings and good wishes were with me," he said.
Chopra fondly spoke about his journey, his first film 'Dhool Ke Phool' and other films that he made under his brother's production company.
Later in 1973 he set up his own production house Yash Raj Films and teh Rajesh Khanna-starre 'Daag' was the first film under his banner. He the went on to make intense and action-packed films like 'Deewar', 'Trishul', 'Kaala Patthar', 'Mashaal', 'Vijay' among others.
"I was just married and wanted to become an independent director… All I knew is I wanted to follow my heart and my only intention was to make films," Chopra said.
The veteran also talked about the grandeur of his movies, stylish heroines, his penchant for love stories and his non-romantic films.
Chopra's films have portrayed heroines like Rekha, Sridevi, Madhuri Dixit, Priety Zinta, Katrina Kaif and Anushka Sharma in the best avatar ever possible.
"God has created nature and all beautiful things like snowfall, valley, flowers and then the next beautiful thing he made is women. A woman is a daughter, wife, sister, friend… she dons all the roles," Chopra said.
"I present them in a beautiful way with the help of a strong story line, beautiful costumes and other things. I don't see anything bad in showing them in a beautiful way," he said.
After starting his own production company Chopra followed his heart and made romantic films.
"I was making films but observed that the posters of my films were more or less same – gun, fight, action scenes. I was making films but somewhere I was not following my heart. I wanted to make hardcore romantic films and ended up making 'Chandni'," Chopra said.
The chat between Shah Rukh and Chopra on the occasion of his birthday here had several people from the media attending. Chopra got a standing ovation when he made a grand entry and SRK, who played the host, sang a birthday song.
The two even crooned 'Ae meri zohra jabeen' from the 1965 film 'Waqt' in the middle of the chat.