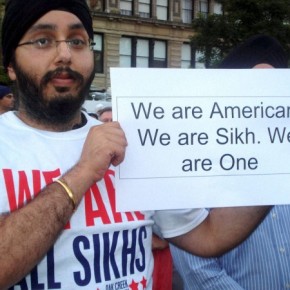 Authorities are investigating whether the massacre at a Sikh temple near Milwaukee could be linked to last year's unsolved murders of two elderly Sikh men in Elk Grove, Calif.
Elk Grove detectives have been in contact with the FBI and Wisconsin law enforcement to determine if the murders are related.
"The possibility of a connection seems remote, but I haven't ruled it out," said Elk Grove Police Detective Kevin Papineau, who spends up to 20 hours a week investigating the slayings of Surinder Singh, 65, and Gurmej Atwal, 78
The two grandfathers, both farmers from Punjab, India, were on their Friday afternoon stroll on March 4, 2011, when someone drove by and shot them.
Local authorities have called the killings a possible hate crime — the same designation given to the Aug. 5 massacre at the Sikh temple near Milwaukee.
The Elk Grove shooting "sounds like the one back there," Papineau said. In Wisconsin, white supremacist Wade Michael Page killed six people before committing suicide.
"I hope it produces the break we need," Papineau said. "There's a good possibility we haven't yet reached the witnesses who know what we need to put it together."
The reward in the case has climbed to $57,301.
"It's highly probable the suspect has told someone and that person has not been reached by the media or properly motivated to do the right thing," Papineau said.
"All it will take is a little argument with a spouse or friend or ex for someone to drop a dime," said Elk Grove police spokesman Chris Trim.
Police are looking for a full-sized gold or tan raised pickup truck, Papineau said. "It has either big tires, big wheels or suspension alterations that make it significantly higher than your factory pick up truck."
Anyone who's heard of the sale or repair of such a pickup should contact police.
The vehicle was reportedly heading south on East Stockton Boulevard when someone gunned down Singh and Atwal with a semi-automatic weapon or an assault weapon, based on shell casings recovered from the scene, Papineau said.
It's not clear whether there was more than one person in the vehicle.
Papineau said investigators are confident the killer didn't know the victims.
Singh was wearing a black turban when he was shot; his friend Atwal was wearing an orange turban.
Atwal died in a hospital six weeks later, and was able to answer only yes-or-no questions that helped police come up with a description of the truck.
Papineau said he's investigating more than 150 tips and combing through a mountain of evidence and information, including video surveillance tapes, cellphone records and neighborhood interviews "to find anything that would help us connect the dots to try to get somebody who knows anything to come forward."
Wisconsin authorities and the FBI "are doing everything they can to help us rule out a connection," Papineau said. "We've started working with them, but obviously they've got their hands full."
The reward is being offered by Crime Alert, a Sacramento-based nonprofit, and the Sikh community.
Anyone with information about the crime should call Elk Grove police at (916) 714-5115 or Crime Alert at (916) 443-4357.