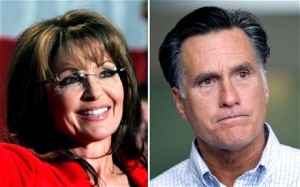 Mitt Romney's tax returns had nothing to do with Sen. John McCain's decision to choose Sarah Palin as his running mate in 2008, according to the Arizona Republican, saying he chose the former Alaska governor because she was a "better candidate."
McCain received more than two decades worth of Romney's tax returns as the former Massachusetts governor was undergoing the vetting process four years ago, far more than Romney has released publicly in the 2012 campaign. Democrats have questioned whether McCain saw something untoward in those tax returns and decided to choose Palin instead.
But on Tuesday, McCain flatly rejected that assertion and grew angry at questions over his decision to choose Palin over Romney.
"Of course not," McCain told POLITICO when asked if the contents of Romney's tax returns disqualified him from the selection process. "I don