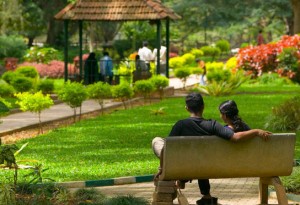 Removed from the maddening roads and the moral police, Cubbon Park once offered love-struck couples unbeatable serenity, privacy and a refreshing silence.
But then, the City's explosive growth invaded the green expanse, noisy vehicles occupying with abandon every inch of the roads that crisscrossed the Park.
Lovebirds beat a hasty retreat. Years later, they could now get a second chance, if the Horticulture Department's novel plan gets into action mode.
The department has finalised an action plan to develop 92 acres of hitherto ignored area inside the Park. Over 150 varieties of flowering plants and trees will be grown with wide lawns.
"We have also identified tree varieties like Perfume Tree, Shorea Talura (Jalari in Kannada), Mesua Ferrea (Suragi in Kannada), which are known to spread fragrance up to two kilometres. Saplings will be planted this month," M Jagadish,  Department's Deputy Director (Cubbon Park), told Deccan Herald.'No privacy'
Now, lovers would definitely love that privacy. Ask Nitin and his fiancee, Chitra, who used to visit the Park at least thrice a week before opting out.
"There is no corner left in the Park where you can escape the vehicles and the noise they generate. With the road stretch between Balbhavan and Central Library (earlier a walker's path) opening for vehicles to facilitate Namma Metro works, traffic movement has increased in the last few months," says Nitin.
For Sunandha Iyengar, a senior citizen and morning walker at Cubbon Park, memories of it as a lovers' paradise go back to 1980's when Mani Ratnam's debut movie, "Pallavi Anu Pallavi", was released.
The famous song "Naguva Nayana Madhura Mouna" from the Anil Kapoor starrer was shot in Cubbon Park. The film 'Pallavi Anupallavi', she said, had captured the beauty of the Park very well.
"Today, when I visit Cubbon Park, I see hardly any lovers. Scenes such as couples dropping into the park, walking hand in hand are becoming rare," she said.
Jagadish agreed that vehicular movement has gone up by at least 13 per cent in Cubbon Park, after the Metro work began.
With more visitors during weekends, the inconvenience to serenity-seeking couples has only gone up. Yet, Jagadish wouldn't agree they have stopped turning up at the Park completely. "Couples now restrict themselves to the fringe portions, particulary near the High Court and the Central Library," he said.
The Deputy Director is certain that the Park will regain its lost glory in a year and a half, when plants start flowering.
Love might bloom once the green cover is restored. And once the Metro work is completed, many road stretches would be closed. Cupid should love it!