AUGUSTA, Ga. — For the second year in a row, the Masters was decided in the woods lining the 10th fairway. Last year on Sunday it was Rory McIlroy's disastrous drive into the trees left of the fairway that knocked him out of contention and opened the door for Charl Schwartzel. This year, it was Bubba Watson's Hail Mary wedge shot from deep in the trees on the other side that somehow, against all right and reason, wound up 15 feet from the pin. Two putts later, he had defeated Louis Oosthuizen in a playoff and won the green jacket.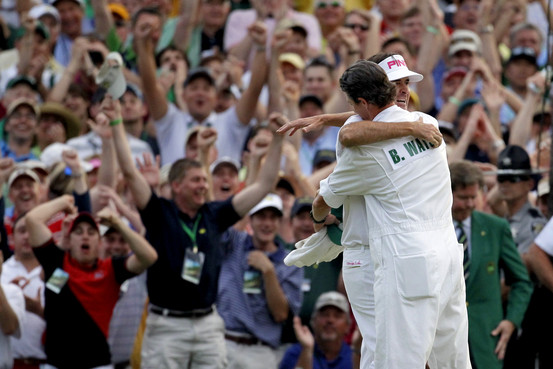 "I had to keep it under 15 feet under a tree, then it started rising and hooked about 40 yards. Pretty easy," Watson said, describing the 160-yard shot.
Watson, who broke down sobbing after his winning playoff putt, describes his style of play as "Bubba Golf." He has never had a lesson and has the most untraditional game on the PGA Tour, curving virtually every shot one way or the other, to reflect how he sees it in his mind. Yet he leads the PGA Tour this year in both driving distance and hitting greens in regulation. The Masters represented his fourth career win and first major.
It was the second truly historic shot of the day. The first came on the par-five second hole Sunday, when Oosthuizen scored a rare double-eagle. From 253 yards, he used a four iron to chase the ball down the length of the green and into the hole. The first double-eagle ever on that hole, and the fourth in Masters history, instantly vaulted Oosthuizen from third place at seven under par to first at 10 under par