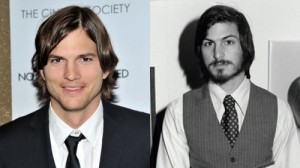 The King of Twitter is now the King of Apple, as "Two and a Half Men" star Ashton Kutcher is attached to play Steve Jobs in the indie pic "Jobs," which Joshua Michael Stern ("Swing Vote") will direct from a script by Matt Whiteley.
The film will chronicle Steve Jobs from wayward hippie to co-founder of Apple, where he became one of the most revered creative entrepreneurs of our time.
Five Star Institute's Mark Hulme is financing and will produce the pic, which is skedded to start production in May while Kutcher is on hiatus from his hit CBS series.
CAA, which reps both Kutcher and Stern, will represent the pic's domestic distribution rights.
While Kutcher was last seen in Garry Marshall's ensemble pic "New Year's Eve" and the romantic comedy "No Strings Attached," he earned strong notices for his more serious turns in David Mackenzie's sex dramedy "Spread" and Emilio Estevez's historical drama "Bobby."
Stern, who made his helming debut with the 2005 Aaron Eckhart vehicle "Neverwas," previously directed Disney's 2008 election comedy "Swing Vote," toplined by Kutcher's "The Guardian" co-star Kevin Costner. Helmer is also attached to direct Stone Village's "Carnaval," an R-rated comedy that pairs John Cusack with fellow CAA client Johnny Knoxville.
In addition to both CAA and Sloane, Offer, Weber & Dern, Kutcher and Stern are respectively repped by Untitled Entertainment and 3 Arts Entertainment.
Sony Pictures is currently developing its own Steve Jobs pic, based on the bestselling book by Walter Isaacson.