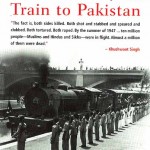 TRAIN TO PAKISTAN
Chatto and Windus published Khushwant Singh's novel "Train to Pakistan" in 1956. It's a 181-page novel and is available in both paperback and hardback. It's a novel, which catches your attention from the first page and holds it throughout the book. Singh depicts partition not only in political terms but adds a human element to it by telling the love story of a Sikh boy and a Muslim girl. The story can be viewed from different angles. If it is a poignant story of love between a Sikh boy and Muslim girl, it is also a heart rending story that depicted the brutalities suffered by the people generated as a result of partition. Not just this, it also depicts how different people viewed famous personalities like Mahatma Gandhi in different light. The beauty of the story is that inspite of being a work of fiction it is very close to reality in terms of the scenes that are created. The story has a tone that could be slightly depressing since the era it deals with was dark , never the less it still manages to leave its mark in the literary world and on all hearts .
In his debut novel, Singh reveals our country's history that haunts many till date. Millions of men killed, women raped and children burnt, make us realize how destructive the partition was for our country. The novel focuses on the turbulent situation of the country and how so many families and friendships were broken forever. Singh sketches his character with a steady hand. While the entire country is waging a war of partition, the village of Mano Majra, situated on the India-Pakistan border, is not interested in it. The Sikhs and Muslims have been living together since time immemorial and they continue to do so. Then a moneylender is murdered and the suspicion falls on Juggat Singh who is in love with the Muslim girl. When a train full of Sikh dead bodies, reaches Mano Majra, hell breaks loose . The life long friendship between the Sikhs and the Muslims is now on a tightrope.
The atrocious tale of partition, murder and killings is followed by a subplot of love, which provides a balming effect to the otherwise horrific story. Juggat Singh a Sikh falls in love with Noora, a Muslim girl. At a time when the two communities were at each other throats these two loved each other passionately and sincerely. The novel ends depicting love winning over religion. Juggat Singh, sacrifices his life to save the life of Nooran, his love and many other Muslims. Singh weaves a heart-wrenching story, of lost love and a time when our country was divided into two.
One of the very few books that presents partition so boldly. The book has perhaps come from the most daring authors of his time. He mixed fiction with reality and ended up writing a story that will continue to touch the hearts of all readers for years to come. In my opinion it's a must read for every Indian and Pakistani of todays generation . A rare gem , which book lovers will treasure for ever .