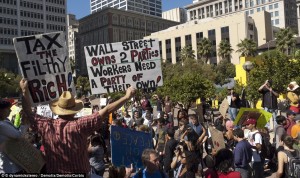 The protests against corporate America, which began in New York City two weeks ago, have spread across the country, with demonstrations occurring in Los Angeles, Boston, Chicago, Denver and Seattle.
Sparked by the Occupy Wall Street movement, which has seen thousands of protesters camped out in New York's Financial District for the past fortnight, mass gatherings have started nationwide, with the unified purpose of voicing anger at the U.S. banking and political systems.

The anti-corporate protest in New York City entered its fifteenth day today, as the city's residents began to increasingly feel the effect of a mass gathering that began as little more than a dozen students.
In Los Angeles, several hundred protesters marched from Pershing Square to City Hall on Saturday, and said they would remain camped at the site 'indefinitely', like their New York counterparts.

Organised by a group called Occupy LA, the demonstrators echoed the refrain begun by those on the East Coast, saying they hoped to change economic polices that benefit the richest one per cent of Americans.
Crowd members waved signs, including one that read 'The Banks Ate My Baby,' and chanted 'Hey hey, ho ho, corporate welfare's got to go,' the Los Angeles Times reported.

'In the end, what we want to do is inspire working-class people to get involved in the political process,' Adam Liszkiewics, a 32-year-old USC graduate student, told the paper.