They don't regard Ravana as a negative figure. On the contrary, some people in four Madhya Pradesh districts worship Hindu god Rama's arch rival on Dussehra when all across his effigies are burnt to mark the victory of good over evil.
In some places of Vidisha, Mandsuar, Ratlam and Indore districts, the effigy of Ravana is not burnt but the people welcome the 10-headed demon king.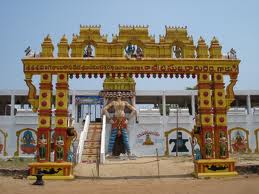 Ravana is worshipped in Vidisha district as he is personified as a symbol of prosperity and regarded as a saviour by Kanyakubja Brahmins, a Brahmin sub-sect to which Ravana is believed to belong. A village in Vidisha district is called Ravangram.
Earlier, Ravana was worshiped during marriages only in the village but for the last few years he is being worshiped on Dussehra also.
"I know that villagers of Ravangram worship him. It is a village of 90% Brahmins. But so far I know that they only worship Ravana during marriages," Congress leader Prabahat Bhanu Sharma of the district said.
"The bride groom take blessings from Ravana. He is worshiped as local god in the village," he added.
In Mandsaur district bordering with Rajasthan, Ravana is hailed as son-in-law by Namdeo Vaishnav Samaj, a sect which believes that Ravana's wife Mandodari belonged to the town. Last year, a 40-ft-high statue was installed at Ravana Rundi in the Khanpur area at the same place where a 25-ft-high lime and brick ancient idol of the demon king existed till 1982. Locals said the old statue developed cracks due to lightning and was ultimately destroyed.
Rajesh Batham of Ratlam district who worships Ravana believes that burning Ravana who knew the Vedas and was a devotee of Shiva was not justified. Valmikis like Namdev community in Mandsaur and Kanyakubja Brahmins of Vidisha believe Ravana was an intellectual and knowledgeable person who learnt all the Vedas and pleased Shiva with his devotion.
Members of the Valmiki Samaj at Pardeshipura in Indore worship Ravana as a god on Dussehra. Their devotion can be gauged from the fact that they avoid looking at the 'Ravan-Dahan' (burning of Ravana effigy). Indore's Mahesh Gohar claimed that his Valmiki community has been worshipping Ravana for decades. "We have been performing proper worship of Ravana on Dushhera for the last 40 years," he said, adding that the community usually takes out a procession to the venue of the puja.
According to the epic Ramayana, Rama had carved his way down south through the heartland of India.
It is believed that he had passed through Satna, Mandla and Balaghat districts of Madhya Pradesh. Said physiatrist Ruma Bhattacharya: "It is not surprising that Ravana who is considered evil in Indian society is also worshiped in India." "There is no complete black and white personality of any person. There is always some grey part and when it got accepted, people see only the good side. Apart from abduction of Sita, Ravana was a man with knowledge and so people remember him too – for one or other reason."