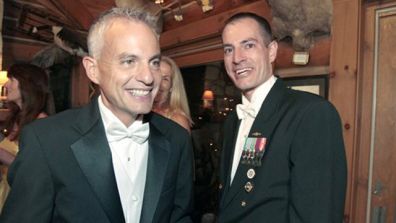 After years of debate and months of final preparations, the military can no longer prevent gays from serving openly in its ranks.
Repeal of a 1993 law that allowed gays to serve only so long as they kept their sexual orientation private took effect Tuesday at 12:01 a.m. EDT.
Some in Congress still oppose the change, but top Pentagon leaders have certified that it will not undermine the military's ability to recruit or to fight wars.
The Army was distributing a business-as-usual statement Tuesday saying simply, "The law is repealed," and reminding soldiers to treat each other fairly.
Defense Secretary Leon Panetta and the chairman of the Joint Chiefs of Staff, Adm. Mike Mullen, scheduled a Pentagon news conference to field questions about the repeal. And a bipartisan group of congressional supporters of allowing openly gay service planned a news conference on Capitol Hill.
Gay advocacy groups planned a series of celebrations across the country.
Pentagon press secretary George Little said Monday that the military is adequately prepared for the end of the current policy, commonly known as "don't ask, don't tell," under which gays can serve as long as they don't openly acknowledge their sexual orientation and commanders are not allowed to ask.
"No one should be left with the impression that we are unprepared. We are prepared for repeal," Little said.
Last week, the Pentagon said 97 percent of the military has undergone training in the new law.
For weeks the military services have accepted applications from openly gay recruits, while waiting for repeal to take effect before processing the applications.
With the lifting of the ban, the Defense Department will publish revised regulations to reflect the new law allowing gays to serve openly. The revisions, such as eliminating references to banned homosexual service, are in line with policy guidance that was issued by top Pentagon officials in January, after Obama signed the legislation that did away with the "don't ask, don't tell" policy.
The lifting of the 18-year-old ban also brings a halt to all pending investigations, discharges and other administrative proceedings that were begun under the Clinton-era law.
Existing standards of personal conduct, such as those pertaining to public displays of affection, will continue regardless of sexual orientation.
There also will be no immediate changes to eligibility standards for military benefits. All service members already are entitled to certain benefits and entitlements, such as designating a partner as one's life insurance beneficiary or as designated caregiver in the Wounded Warrior program.
Gay marriage is one of the thornier issues. An initial move by the Navy earlier this year to train chaplains about same-sex civil unions in states where they are legal was halted after more than five dozen lawmakers objected. The Pentagon is reviewing the issue.
Service members who were discharged under the "don't ask, don't tell" law will be allowed to re-enlist, but their applications will not be given priority over those of any others with prior military experience who are seeking to re-enlist.
Some in Congress remain opposed to repeal, arguing that it may undermine order and discipline.
A leading advocate, House Minority Leader Nancy Pelosi, said Monday the repeal is overdue.
"Our nation will finally close the door on a fundamental unfairness for gays and lesbians, and indeed affirm equality for all Americans," the California Democrat said.