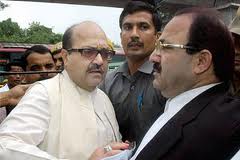 If the July 2008 cash-for-vote scam was sensational, the arrest of former Samajwadi Party leader Amar Singh in the case was even more dramatic.
When special judge Sangita Dhingra Sehgal began the hearing at 10am in a jam-packed court, Singh's lawyer said his client was too ill to personally appear.
The court wasn't impressed – justice Sehgal asked for his medical records to be produced.
Instead of just the medical records, Amar Singh himself suddenly appeared in court.
"I lost my kidneys and I am now living on borrowed kidneys. There are hazards of being in public life and there is infection in my urinary tract which is dangerous for my borrowed kidney," Singh told the court, asking for interim bail on health grounds.
"I was having (health) problems since yesterday. I have faith in judiciary and in the Constitution. I was treated in Mt Elizabeth Hospital in Singapore and have to travel every three months (for medical check ups)," he told the special judge in the courtroom.
The court instead pointed out that that documents presented showed his medical history only up to September 2010.
"What has been your medical history since then?" the court asked Singh.
"There was little time today so I could not get all the reports," Singh quickly responded.
The expression on the judge's face clearly showed that his answer had failed to convince the court.
Justice Sehgal sent Singh to 14 days in judicial custody – the maximum an undertrial can be sent to jail for when a person is produced for the first time in court.
He was driven in a blue Delhi Police van meant for prisoners to Tihar, becoming the fifth sitting Member of Parliament to be jailed there.
Singh is the first high-profile politician to go to jail in the cash for votes scam.
Over three years after a stunned nation watched wads of currency notes being displayed by BJP MPs on the floor of the Lok Sabha, claiming that they had been offered money to save the UPA government during a no-confidence vote in July 2008.
The Delhi police in its chargesheet filed on August 25, 2011 cited ample "circumstantial evidence" that the currency notes displayed in Parliament were sent by Singh to the BJP MPs to influence the trust vote on July 22, 2008.
The court also rejected the bail pleas of two other accused – former BJP MPs Faggan Singh Kulaste and Mahabir Singh Bhagora – and sent them to jail for 14 days.
BJP leader LK Advani's former aide Sudheendra Kulkarni, who has also been chargesheeted in the case, did not appear in the court as he was abroad.
Source://www.hindustantimes.com/Court-sends-Amar-to-Tihar-jail/Article1-742156.aspx