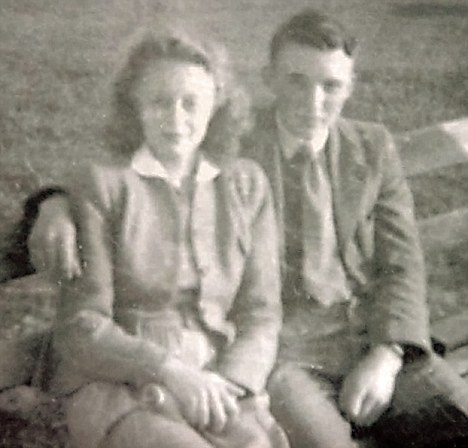 Like something from a film childhood sweethearts from Southampton are finally tying the knot after 63 years apart.
After decades of being separated by disapproving parents Bill Labram and Peggy Fryer, both 80 will be getting married this weekend.
They first fell in love in 1947 after growing up on the same street but their courtship was cut short by Peggy's father, George who felt his daughter was too young to be dating at 16.Heartbroken each went their separate way, marrying other people and having families, although they both thought about each other on a daily basis.
It was only when Bill's wife passed away in 2007 that Peggy's friend sent her the death notice in the local newspaper along with an old photo of them as a couple that memories were stirred and a divorced Peggy decided to contact Bill.

She used the phonebook to track him down and the couple were soon reunited.
Peggy, a retired secretary, said: 'I feel like we've been given a second chance at love.
I've thought about him every day for all these years and he says he used to look at an old photograph of me in his study and wonder what I was doing.
'Things were different back then. We were sweethearts but my father thought we were getting too serious. He banned me from seeing Bill and kept me indoors.'
Despite living in the same city for the next sixty years they never saw each other again, and both believed that the other had moved on from the relationship.
Peggy met her former husband Tony at a youth club and they married in 1952, before going on to have two sons, Stephen and Martin, four grandchildren and one great-grandaughter.

While Bill married June in 1952 having two children, Christopher and Susan, and four grandchildren.
Bill,a retired manager from Southampton City Council, said: 'We've never forgotten one another. It's marvellous. We were in love then and we're in love now.
'I never really thought we'd meet up again and get another chance. But when she phoned me and I went to see her, we slotted in just as if we hadn't been apart a day.
'When I knocked on the door she said 'oh you're early', but I wasn't – I was 60 years late.'

Just weeks after finding each other again Bill proposed and the couple moved from Southampton to Bridport, Dorset.
Their extended families will be attending the ceremony this weekend.