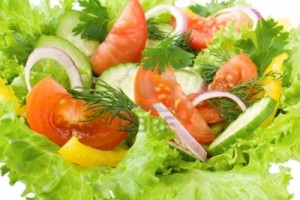 Racing to curb the spread of a killer food bug, Germany set up a national task force on Friday to hunt down the source of a highly toxic strain of E.coli that killed 17 people and sounded alarms around the world.
Russian Prime Minister Vladimir Putin, engaged in a trade row with the European Union after Moscow banned imports of raw fruit and vegetables from the bloc, heightened the drama, saying he would not "poison" Russians by lifting the embargo.
Repeating warnings to Germans not eat salad vegetables — rattling farmers and stores just as they hit high season — health officials said they recorded 199 new cases of the rare, highly toxic strain of the infection in the past two days.
That took the total of those infected since it was detected in early May to 1,733 — making it possibly the deadliest ever outbreak — and suggesting it was spreading as fast as ever.
Scientists struggled to pinpoint the contamination, assumed to be poor hygiene at a farm, in transit, a shop or food outlet.
Health institutes across Europe have tried to reassure the public by stressing that E.coli, a frequent cause of food poisoning, can generally be tackled by washing vegetables and by washing hands before eating to reduce the risk of bacteria being passed on from the feces of an infected person.
The resistance of the strain to some antibiotics and the failure to find the source of the outbreak, made harder by the nature of salads to include a variety of produce from different producers, has raised concerns, however.
Responding to EU calls that Russia lift Thursday's ban on imports and respect the principle of free trade, Putin said: "We cannot poison our people for the sake of some spirit."
FIRST OUTBREAK
Germany is at the center of the outbreak but people have also become ill in 10 other European countries and the United States, probably from eating lettuce, tomatoes, cucumbers or other raw salad vegetables in Germany. The region around the northern city of Hamburg is at the epicenter of the sickness.
The World Health Organization said the strain was a rare one, seen in humans before, but never in this kind of outbreak.
E.coli bacteria themselves are harmless. But the strain that is making people sick in Europe has the ability to stick to intestinal walls where it pumps out toxins, sometimes causing severe bloody diarrhea and kidney problems.
A government spokesman said Chancellor Angela Merkel was setting up an E. coli task force and has talked to Spanish Prime Minister Jose Luis Rodriguez-Zapatero about the impact on Spanish farmers, who were initially blamed for contamination.
The outbreak has put strains on trade relations, with Russia drawing EU criticism after banning raw vegetable imports from Europe and accusing Brussels of failing to handle the crisis.
Spanish officials have said they might seek compensation from Germany after German officials went back on initial reports that the source might be cucumbers imported from Spain.
Beyond Germany, people have also become ill in Austria, the Czech Republic, Denmark, France, Netherlands, Norway, Spain, Sweden, Switzerland, Britain and United States.
"All these cases except two are in people who reside in or had recently visited northern Germany during the incubation period for the infection — typically 3 to 4 days post-exposure — or in one case, had contact with a visitor from northern Germany," the WHO said in a statement.
WORST EVER
Robert Tauxe of the U.S. Centers for Disease Control and Prevention, which has been working with German health officials since last week, said the strain was likely the most deadly yet in terms of the number of deaths recorded.
"I believe it is," he told Reuters. He said it was unclear how the bacteria became so resistant.
The European Union's envoy to Moscow said Russia's ban on was unjustified and contradicted World Trade Organization rules.
Fernando Valenzuela also repeated the call from the 27-nation bloc for the lifting of the ban and said he hoped the situation would be "resolved" within days.
Valenzuela expressed surprise that Russia would impose a ban, the breadth of which he said goes against WTO rules at a time when Moscow is pressing to join the world trade body.
EU countries exported 594 million euros ($853 million) worth of vegetables to Russia last year while EU imports of vegetables from Russia were just 29 million euros, EU data show.
"WASH AND WASH"
The outbreak is causing bad infections and in a number of cases, complications affecting blood and kidneys. Hemolytic uremic syndrome (HUS), which frequently leads to kidney failure and can kill, has been diagnosed in hundreds of the cases.
Many patients have gone into hospital, with several needing intensive care, including dialysis due to kidney complications.
E.coli infections can spread from person to person but only by what is known as the fecal-oral route.
"I wash and wash and wash my vegetables. You can't stop eating them but I have children and so I'm buying only safe produce and cooking them," said Max Fehrer, a 43-year-old computer programer who was shopping in Berlin's Kreuzberg neighborhood on his way to work on Friday.
The strain is part of a class of bacteria known as Shiga toxin-producing Escherichia coli or STEC that produces a poison known as the shiga toxin.
"The immediate public health problem is the identification of the source of infection so that it can be controlled," said Robert Hall, an expert on communicable disease control in Victoria, Australia.
He said this is done with a combination of epidemiological, microbiological and environmental investigations: "These are all highly skilled tasks that need to be done rapidly and are nearly always done in a glare of publicity."
In Moscow, shops prepared to dump EU vegetables and consumers expressed a mixture of scorn and pride at the ban. But some disagreed strongly, saying the threat was exaggerated.
"I am not afraid of buying vegetables from any country here," said pensioner Vyacheslav Yegorov, carrying a shopping basket filled with grapes and fresh vegetables.