NEW DELHI: More than a month after DMK leader MK Stalin had met his half-sister and party MP Kanimozhi, he paid her a visit in the women's jail for about half an hour on Monday afternoon. He was accompanied by DMK Parliamentary Party Leader TR Baalu and MP AKS Vijayan. Stalin had last met Kanimozhi at the Special CBI court on May 24, four days after she was arrested in connection with the 2G scam. Stalin also met ex-telecom minister A Raja and Managing Director of Kalaignar TV Sharad Kumar. He flew into the city from Chennai on Monday morning.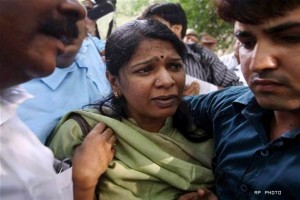 "We received a request through fax on Monday morning that the three would like to meet Kanimozhi, Raja and Sharad Kumar between 4pm-6pm and we gave them permission for the same. They met each of the inmates in their respective jails for about half an hour each," said Neeraj Kumar, DG (Prisons) to TOI.
Stalin first met his sister in jail number 6 at 4pm. Kanimozhi, who has so far put up a brave front despite being in jail for over a month now, reportedly broke down on seeing her brother. "She became very emotional after she entered the assistant superintendent's room, where the mulaqaat was taking place. Stalin clasped her and gave spoke to her in Tamil for a long time. She kept nodding and after some consoling was able to reply back in Tamil. They spoke for at least 30 minutes while Baalu and Vijayan addressed some questions to her one or two times," explained a jail source.
Kanimozhi has managed to remain quite involved in the Tihar jail functionings. "She has been one of the most obedient high-profile inmates and has asked for nothing so far, unlike the others. She has also asked to be taken around the jail where there are a lot of vocational units in place like candle-making, potter-making, tailoring section, crotchet work, etc