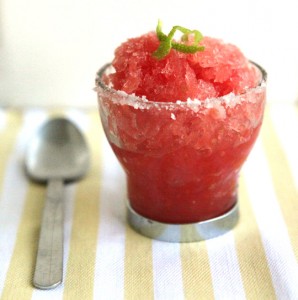 Frozen Watermelon Margarita
adapted from Gourmet
1 large watermelon
4 limes
1 c tequila
1/4 c sugar
lime salt (recipe below)
Cut the watermelon into cubes. Using a hand blender, puree the watermelon and add remaining ingredients. Place in freezer until solid.
Rub lime juice around the rims of the serving glasses or bowls. Press the rims into the lime salt and scrape round servings from the frozen watermelon margarita mixture. Serve as a solid or in glasses as a slush. Garnish with peels of lime zest.
Lime Salt
1/4 c salt
1 tsp dried lime zest
Combine by grinding together with a mortar and pestle.
Spicy Watermelon & Corn