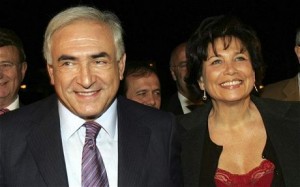 A New York City judge says the head of the International Monetary Fund must remain jailed at least until his next court hearing for attempted rape and other charges.
A tired and grim-looking Dominique Strauss-Kahn appeared Monday before a Manhattan judge.
Prosecutors had asked the judge to hold Strauss-Kahn without bail. His attorneys had suggested that prosecutors set $1 million bail and promised the IMF managing director would remain in New York City.
Strauss-Kahn is accused of attacking a maid who went in to clean his penthouse suite at a luxury hotel near Times Square.
Defense attorney Benjamin Brafman says his client denies any wrongdoing.
Strauss-Kahn faces charges including attempted rape, sex abuse, criminal sex act, unlawful imprisonment and forcible touching. The top count is punishable by five to 25 years in prison.
====================================================================================
Dominique Strauss-Kahn, International Monetary Fund chief, was on Sunday expected to be arraigned on charges of attempted rape, criminal sexual assault and unlawful imprisonment, police and his lawyer said, in a shock case that likely dashes his hopes of running for French president and could hamper the IMF's ability to help manage Europe's debt crisis.
Mr. Strauss-Kahn, 62, was apprehended by police in the first-class section of an Air France plane minutes before it was to leave New York for Paris on Saturday night, according to law-enforcement officials in New York. Earlier in the day, Mr. Strauss-Kahn had allegedly sexually assaulted a maid who had come to clean his room at a hotel in Time Square, a New York police official said.
Mr. Strauss-Kahn's personal attorney, William Taylor, said Mr. Strauss-Kahn was planning on Sunday to plead not guilty to the charges, suggesting he would be arraigned later. Mr. Strauss-Kahn's wife, Anne Sinclair, a French journalist, said she did not believe any of the accusations professed against her husband. She said in a statement that she had no doubt "he will be proved innocent."
News of Mr. Strauss-Kahn's arrest reached people in France via radio and television as they were waking up Sunday. Even though Mr. Strauss-Kahn had yet to go before a judge, politicians in France were already saying the arrest could well change the course of France's presidential elections next year.
Though Mr. Strauss-Kahn hadn't announced whether he would even try to run on the Socialist Party ticket, he had already been considered the candidate to race against incumbent President Nicolas Sarkozy.
A survey by French pollster Ifop on Saturday had suggested he would win against Mr. Sarkozy in a general election.
"Whatever the outcome of the procedure is, [Mr. Strauss-Kahn] will not be able to run for president," said Jacques Attali, a former adviser to France's late Socialist president Francois Mitterrand. Martine Aubry, the head of France's Socialist Party said news of Mr Strauss-Kahn's arrest was a "lightning bolt."
Ms Aubry is now likely to be the front-runner in the Socialist primaries, though analysts say she would have a much harder time defeating Mr. Sarkozy in a general election.
Mr. Strauss-Kahn's arrest also raises questions about the leadership of the IMF, whose intervention has played a key role helping European leaders manage the continent's debt crisis. Early Sunday, the staff and board of the IMF were struggling to figure out what steps to take, tentatively scheduling a meeting of top officials for 5 p.m. local time. In the meantime, the IMF named its No. 2 official, John Lipsky, as acting managing director.
Still, Mr. Lipsky had only a few days ago announced he wasn't going to seek a second term after his current one expires at the end of August. That makes Mr. Lipsky a short-timer and adds to the IMF's complications over how to proceed.
[caption id="" align="alignnone" width="553″ caption="Dominique Strauss-Kahn The IMF chief has had a storied political career but also his share of allegations of corruption and abuse of power. 1949: Born in Neuilly-sur-Seine, near Paris 1971: Graduated from France's HEC business school 1977: Earned a Ph.D. in economics with a concentration on household economics. Starts a career as an economics professor 1986: Elected as a Socialist candidate to France's National Assembly 1991-1993: Served as trade minister in the Socialist administration of President Fran