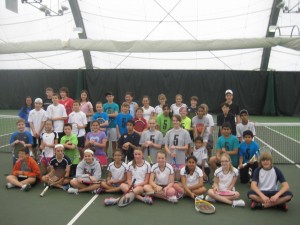 Few people think of Plainfield, Illinois as a hotbed for competitive youth tennis, but two area pros are out to quickly change that.
The Five Star Tennis summer camp began in June of 2008 with a total of 35 players from the Naperville area. By 2010 the enrollment had grown to nearly 200 young tennis players of all ages and abilities. The rapid growth of the program can be attributed to a loyal base of young players who love to spend their summer days on the 12 hard courts of Plainfield East High School, where they get a chance to join a slew of other players looking for a place to hone their skills. Players of all abilities, from beginners to some of the top talent in the Midwest share the same home and learn from some of the best and most dedicated pros in the country.
Five Star Tennis is quickly making a name for itself by developing some of the top juniors in the area. Recent alumni from the program include Kevin Bauman/Billy Sterret from Naperville Central High School, who recently finished in the top 10 at the annual IHSA State Meet in 2010. On the girls side, seniors Kelley Cain, Alexa Geist and Aileen Hoffman finished in the top 24 at the 2010 Girls State Meet. Kevin is currently playing on a tennis scholarship at Eastern Illinois University.
The program is headed up by area pros Robin Henders and Dan Brown. Robin is the Director of Competitive Training at the Naperville Tennis Club. He has worked with over a dozen players that have been named to the Illinois High School Association