This story bearing all the cliched hallmarks of PR led journalism will have you in splits.
It has all the ingredients of a big star – Akshay Kumar – who is very much in touch with his roots. Story touches upon all the key points that Akshay's PR team would have asked for. Fitness freak, obedient towards his old teacher, still in touch with old friends, loves mangoes. While putting Krishna-Sudama spin they go onto talk about hundreds of acres of farms that 'Sudama' has. Making Ravi Karle the first poor guy with such a vast farmland.
It turns up in Times of India of all places is no surprise.
To keep it authentic they have cited a 'source' instead of Askhay's PR team !

Here it is – enjoy !
——————————————————————————————————————————————————————-
Akshay Kumar is currently gorging on mangoes brought by his close buddy, Ravi Karle, who is a farmer from Deogarh in Maharashtra.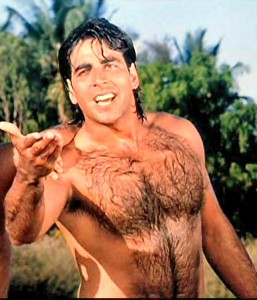 Akshay and Ravi studied together in Don Bosco school, Matunga, and have known each other for over 36 years.
Ravi's mother used to teach Akshay Marathi in school and he credits her for his fluency in the language.
Says a source, "Few people know that Akshay has kept in touch with his childhood friends over the years. When they meet it's like time has never passed.
On Wednesday night Ravi dropped in to meet him with his mother, wife and family on the sets of Joker. He brought five crates of mangoes grown on his farm.
When Akshay met Ravi's mother he got very emotional and started talking to her in Marathi!"
Adds the source, "Akshay loves mangoes, but being fitness-conscious doesn't eat them too much.
But when Ravi hand-picked them for him, Akki couldn't resist.
He has already polished off at least half of the mangoes!"