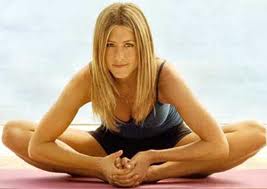 Jennifer Aniston does it. Reports are that Liv Tyler, Halle Berry, Madonna, David Duchovny and supermodel Christy Turlington do it, too. Many professional athletes are said to be doing it in an effort to improve their games.
The "it" is yoga, a sophisticated mind-body exercise many believe can do everything from tighten your buns to change your outlook on life.
But can this no-strain, work-at-your-own-level exercise really help you lose weight?
It's true most types of yoga don't have anything near the calorie-burning power of aerobic exercise. A 150-pound person will burn 150 calories in an hour of doing regular yoga, compared to 311 calories for an hour of walking at 3 mph. But it is exercise, after all, and many practitioners believe yoga can indeed help people take off extra pounds.
"Yoga is a phenomenal way to put you in touch with your body the way nothing else can, and yes, it can help you lose weight," says instructor Dana Edison, director of Radius Yoga in North Redding, Mass., and a certified personal trainer with the American College of Sports Medicine.
Celebrity yoga trainers Ana Brett and Ravi Singh, who have worked with such hotties as Madonna and Gwyneth Paltrow, also believe in yoga's weight-loss powers.
"We have seen it in ourselves, we have seen it in our clients