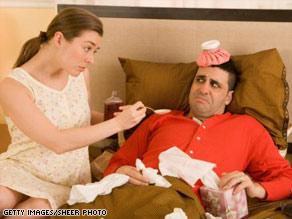 Over-the-top behavior? Rounds says no way. "He loves to be taken care of."
It's a scenario familiar to many relationship experts, who say that first comes love, then comes marriage, and then comes the husband in the baby carriage.
Nurturing gene on overdrive.
Women find themselves mothering their husbands because of societal pressures to be the ultimate woman, says Pepper Schwartz, a sociology professor at the University of Washington in Seattle.
"We've been taught that the way to show love is to do for others," she says. And, according to Schwartz, some women believe that the more they nurture, the better a woman they are.
"I was at a dinner party once," she says, "and I watched a woman lean over and start cutting up her husband's meat."
A bad idea? "It can work for some people," says Les Parrott, a clinical psychologist, an author on marriage and relationship topics, and a professor at Seattle Pacific University. He describes one couple he knows: "She packs his suitcase for him and takes care of him like a little kid. But it works for them."
Even so, Parrott and other experts are quick to point out that while a certain amount of nurturing is harmless, it can escalate and lead to relationship trouble.
"First you're tucking in his shirt," Schwartz says, "then you're wiping his mouth, and at some point, it's going to become a problem."
It was a problem for New York City resident Linda Franklin's marriage.
Kristen Rounds, 26, admits that she's a little gaga over her man. "I'm like his mommy," the Monterey Park, California, resident says with a laugh about her fianc