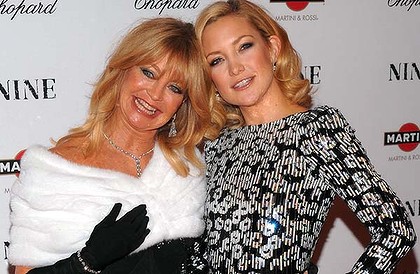 Goldie Hawn's ex-husband is planning to write a tell-all book about his former partner and their famous daughter Kate Hudson.
Hawn married Bill Hudson in 1976 and they became parents to two children, actors Kate and Oliver Hudson, before divorcing in 1980.
The Almost Famous star was just 18 months old when her parents ended their marriage, and she was raised by Hawn's long-time boyfriend, Kurt Russell, as she was estranged from her real father.
Bill Hudson has had little contact with his kids over the years, and he blames Hawn for limiting his access to the children.
The musician is now preparing to launch a new book, titled So You Are a Star, to lift the lid on his famous family relationships, and although he concedes the revelations are explosive, he hopes the memoir will bring him closer to his kids.
He tells New York Post's gossip column PageSix, "(Kate and Goldie) have said things about me to the press that are untrue, that I abandoned my family. I tried to stay in contact with my children, but Goldie made it impossible.
"Kate has used the story of her being abandoned by me because she needed tragedy in her life. She grew up privileged in Hollywood with private planes. Nobody was going to sympathise unless she had some tragedy."
His agent Diane Nine adds, "We are meeting with publishers next week. But the proposal is quite explosive. What he really wants is a relationship with his children and he hopes this will help."