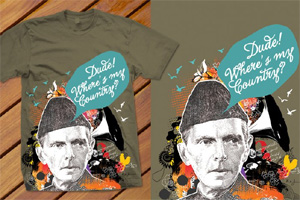 A new line of T-shirts, launched online just a few hours ago, has Founding Father of Pakistan Mohammed Ali Jinnah wondering: "Dude! Where's my country?"
"Ashton just lost his car. This poor guy lost a whole country to mediocre half-wits. Imagine his plight," reads the caption put out by Uth Oye, the makers of the T-shirt, on their Facebook page.
The caption refers to Ashton Kutcher, the star of the Hollywood film "Dude, Where's My Car?" which inspired the slogan on the T-shirts.
Uth Oye is not just another T-shirt making company. They describe themselves as "a socially conscious, cause-based design initiative" and "actively devise and fund sustainable projects within the educational, human rights, renewable energy and developmental sectors of Pakistan".
In the recent past, "the caused-based clothing company" has provided solar lamps in a village in Thar district, provided a computer laboratory in a girls school in Lahore, and joined forces to engineer a sustainable, long-term solution for people who had no access to piped gas.